U.S. Suicide Rate Rising, Stray Tiger Takes on Houston, Uber Drivers Can Remain Indie Contractors: A.M. Links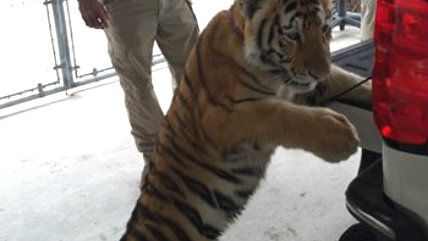 The suicide rate in America rose 24 percent between 1999 and 2014, with 13 out of every 100,000 Americans now killing themselves annually, according to new data from the National Center for Health Statistics. For some groups the jump was particularly steep, especially for women ages 45- to 64-years-old (up 63 percent) and girls ages 10- to 14-years-old (up from 50 suicides in 1999 to 150 in 2014).

"If two people dig each other, they dig each other," wrote Donald Trump about gay marriage in 2005. The New York Times explores what it means that the Republican presidential frontrunner "is far more accepting of sexual minorities than his party's leaders have been."
Cubans can now come and go from the country by sea… as long as they're on a Carnival Cruise ship.
A stray tiger fills suburban Houston with terror and cuteness.
Michelle Obama will appear on an upcoming episode of everyone's grandma's favorite television show, NCIS.
Department of Markets trump Mandates: Papa John's will stop using high-fructose corn syrup in its ingredient list; it also recently banished artificial colors and flavors.
Uber announced a settlement with drivers in California and Massachusetts. Drivers will remain independent contractors, not employees, but can get tips, appeal decisions to drop drivers to a special panel, and receive $84 million between them, with an additional $16 million if the company goes public and its "valuation increases one and a half times" within the first year.
Follow us on Facebook and Twitter, and don't forget to sign up for Reason's daily updates for more content.