A.M. Links: Trump Woos GOP Insiders, Bernie Out-Fundraises Hillary, U.S. Ranks 41st in World Press Freedom Index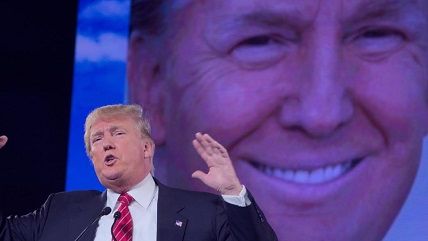 Credit: Todd Kranin

Donald Trump currently has 846 delegates and needs to reach 1,237 to secure the Republican presidential nomination before this summer's GOP convention. Is he on track to do so?
Republican insiders are reportedly warming up to the idea of Trump as the party's presidential nominee.
According to a new report on world press freedom, the United States ranks 41 out of 180 when it comes to measuring the "level of freedom of information" in those countries. Why did the U.S. score as low as it did? The report cites "the government's war on whistleblowers who leak information about its surveillance activities, spying and foreign operations, especially those linked to counter-terrorism."
A ship carrying at least 500 migrants has sunk in the Mediterranean. Only 41 survivors have been reported.
Today is the 90th birthday of Queen Elizabeth II of Great Britain.
Follow us on Facebook and Twitter, and don't forget to sign up for Reason's daily updates for more content.