High School Says Squirt Gun Game Is 'Very Dangerous, Serious Safety Issue'
Parents, do not talk to your kids about 'Squirt Gun Assassin.'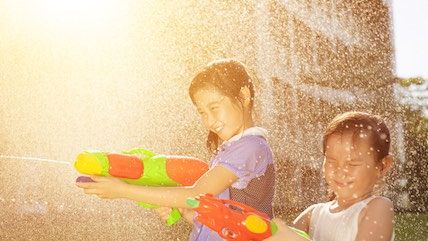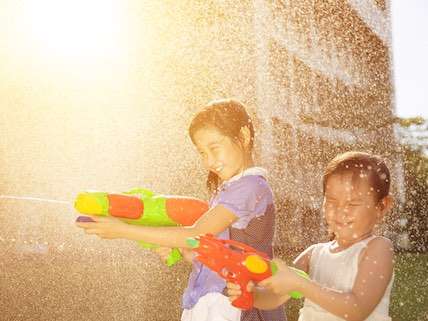 A Pittsburgh public school principal is urging parents to talk to their kids about a "serious safety issue." No, it's not guns, or even lookalike guns. The principal is worried about squirt guns, which are absolutely prohibited at Hempford Area Senior High School.
Their use outside of school grounds is also frowned upon, according to principal Kathy Charlton, who recently sent a letter home to parents warning them about "very dangerous" squirt gun games being played by students.
Hempford seniors are engaged in a continuous game of "Squirt Gun Assassin," according to CBS Pittsburgh. The game involves—you guessed it—teenagers shooting each other with water guns. Charlton's letter to parents claims that participants have been known to chase each other in cars, and some money has changed hands. But the letter does not document a single tangible incident in which a kid got hurt.
"We hope you will speak to your child to urge them to discontinue participation in this game," wrote Charlton. "We appreciate your help and support, because we do not want to see anyone tragically injured or harmed due to participation in this activity."
No one wants kids to get tragically injured. But at the same time, no one should want them to lead dull, sheltered lives. Playing with squirt guns is a natural, time-honored childhood tradition—not something to be feared or discouraged.
So, Pittsburgh-area parents: Please don't talk to your kids about Squirt Gun Assassin. Tell them to go outside and have fun for a change.