How Copycat Cronuts Keep Chefs Sharp
Ripoffs and remixes in the food industry drive talented creators to new heights.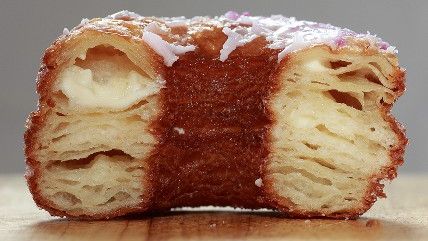 You can watch a video of celebrity dessert chef Dominique Ansel's newest creation, a wild strawberry pavlova, today at Cosmopolitan.com. It looks ridiculous and awesome (ridiculawsome?).
But why should Ansel go to all the trouble of flying $70/lb wild strawberries in from Spain and fussing around with egg whites? After all, Ansel became a household name (well, in certain households anyway) in 2013 when he invented the cronut, a sphinx of a dessert that combines the glories of a croissant and a donut into a single pastry. New Yorkers (still!) line up around the block to get one of the limited edition treats each morning.
So why isn't this guy just chilling out and swimming around in his piles of cronut cash?
For starters, the U.S. Copyright Office does not recognize recipes as copyrightable. As The Washington Post reminds us today, you can trademark your brand name—no one else can call their ring of deep-fried croissant dough a Cronut—but that won't stop Dunkin Donuts started selling the Croissant Donut as soon as they can, even as others hustle out Doissants and Cruffins.
In fact, Ansel has published his recipe. There's no protectable trade secret, so anyone with a deep fryer and a death wish can try to make their very own authentic cronut.
But even as as folks queue up around Ansel's shop, still interested enough to pay a premium in time and money for the original brand's cache, Ansel is on to the next thing. He has to be in an industry where copying is a fact of life, and we're all better off for it.
As co-author of The Knockoff Economy Kal Raustiala told Reason TV: "Intellectual property law is not as important as we might think to innovation." He cites fashion, food, and football as industries that are constantly being driven to new heights by the fast pace of copying and remixing set by the lack of intellectual property.
(Of course, many industries with intense copyright protections are also hotbeds of innovation. The food and fashion industries merely suggest that treating intellectual property like real property not a necessary condition for entrepreneurship and new ideas.)