Town Supervisor Allegedly Ripped Off His Constituents to Build Baseball Stadium
Feds say he committed fraud to make citizens pay for a ballpark they overwhelmingly voted to not publicly finance.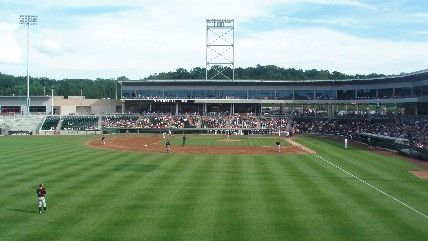 Ramapo, NY, a town about 30 miles northwest of Manhattan,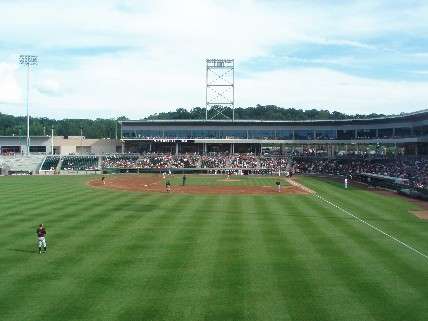 is the home to the Rockland Boulders, a minor league baseball team in the independent Can-Am League. They play home games in Provident Bank Park, a five-year-old stadium that seats a little more than 4,500 people.
In 2010, 70 percent of Ramapo voters rejected a measure to invest $16.5 million in public funds to build the ballpark, yet a year later the stadium was in operation, after local officials used $25 million in bonds issued by the private nonprofit Ramapo Local Development Corporation (RLDC). The president and chairman of the RLDC is Christopher St. Lawrence, who also happens to be Ramapo's town supervisor.
Yesterday, St. Lawrence and N. Aaron Troodler, the former executive director of the RLDC, were arrested by the F.B.I. and charged with 22 counts of securities fraud, wire fraud, and conspiracy. The core of the federal government's case is the "cooking of the books" relating to municipal bonds issued by the Town of Ramapo and by the RLDC.
In a press release, U.S. Attorney Preet Bharara said that St. Lawrence and Troodler "through lies and accounting manipulations, found a way for the town to fund more than half of the $58 million it cost to build that stadium."
FBI Assistant Director-in-Charge Diego Rodriguez was also quoted in that same press release as saying:
St. Lawrence and Troodler allegedly engaged in a complex securities fraud scheme so they could hide public funds being used for the construction of a stadium and other projects. The illegal activity allegedly continued even after they became aware the town and the corporation tasked with development initiatives were subjects of a federal investigation. Public corruption wastes billions in tax dollars every year. Investigating these types of crimes remains among the FBI's top priorities.
The indictment itself states that even though the fraud was ongoing well before the stadium broke ground, "the Town's financial problems were caused largely by the $58 million total cost of the stadium":
The Town paid more than half of that cost, despite the rejection of the Town's guarantee of bonds to pay for construction of the stadium in a Town-wide referendum in 2010 and ST. LAWRENCE's public statements that no public money would be used to pay for the stadium.
The Journal-News reports that St. Lawrence, who pled not guilty yesterday, was back at work today. Though he would not comment on the charges, St. Lawrence said, "I'm going to go in and work and do business in the town of Ramapo as I have for the last 16 years."
Reason TV recently covered a story of another publicly-financed minor league ballpark. Watch below.