Heaven Help California's Non-Urban Cities Under a $15 Minimum Wage
Lessons in how to make double-digit unemployment permanent.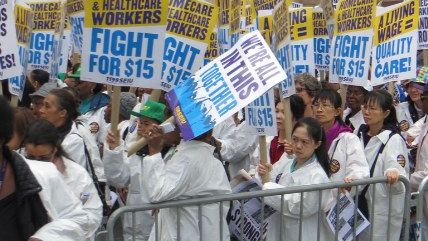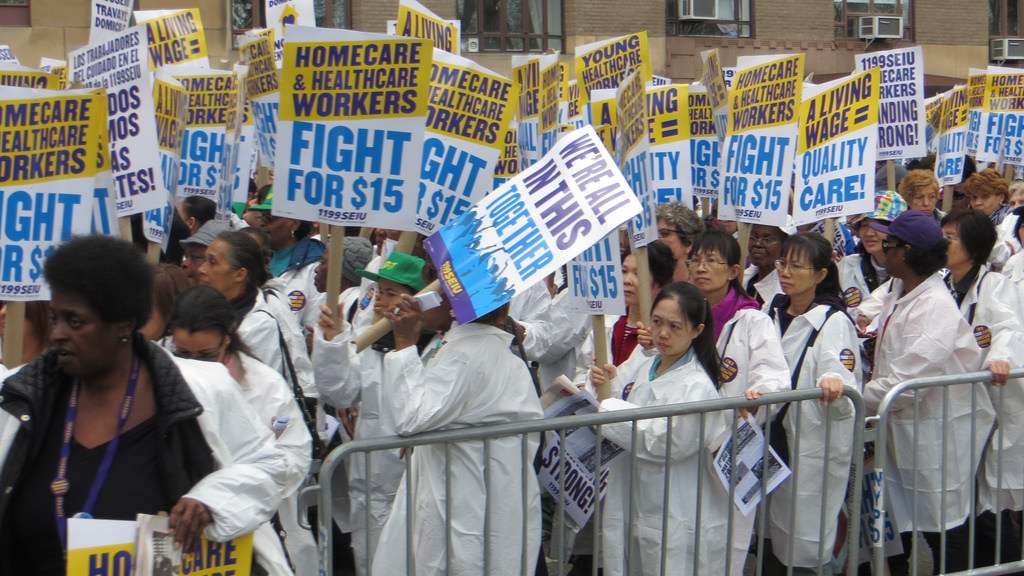 If anybody is wondering why so many California residents outside of the big cities want to break away and make their own states, just take note of the news today that California legislators have made a deal with the all-powerful unions to jack up the minimum wage for all industries and all employers across the state to $15 by 2022 and then tie future increases to inflation. Small business in California will have until 2023 to comply.
There are 13 counties in California that still have double-digit unemployment figures, according to the state's own data. The data isn't seasonally adjusted, so keep in mind that unemployment naturally rises at the start of a new year. But even taking into account an adjustment there are significant populations in the state struggling to find work. None of these high unemployment counties are connected to the big cities. They're inland poor counties like Merced (12.6 percent unemployment), Tulare (12.1 percent unemployment), and Imperial (18.6 percent). They have smaller populations and very little influence in government or the outcomes of ballot initiative votes. It is doubtful that anybody is even thinking about what will happen to those communities or that they even care if the outcome is terrible.
The Los Angeles Times got the scoop on the deal, which may be formally announced by Gov. Jerry Brown today. The deal is intended to hold off a labor-backed ballot initiative that has gotten enough signatures for a public vote. The final minimum wage would be the same under the ballot initiative (read it here) but would provide a shorter window for businesses to comply.
It's also very clear that these $15 pushes are being rushed before the consequences can be fully known post-implementation. But the economics are fairly clear, the Times notes today:
Last year, L.A. County commissioned a survey of 1,000 businesses around the county as part of a larger report on a minimum wage boost.

The economists concluded that as a result of the wage increase, "many prices will increase, including those that lower-income households commonly face; wages will rise for those in minimum wage jobs that remain employed; employment opportunities for those at the bottom of the skills ladder will be diminished" and "employment growth will slow."

A majority of businesses surveyed — and 96% of those have minimum wage employees — said they would likely raise their prices to make up for the increased labor costs.

Only 6% of the businesses overall said it was likely they would reduce the number of minimum-wage workers they employ as a result of the increased wage, but 19% of businesses with minimum wage workers said it was likely they would.
Keep in mind, that 19 percent is just for Los Angeles County, which has a much higher per capita income than other counties with smaller populations. The average Los Angeles County resident makes more than $10,000 more per year than a resident of Imperial County, for example.
But even when considering Los Angeles, it's tough to measure what isn't even there. The elimination of low-level jobs actually drives up the median wage and unemployment figures don't account very well for people abandoning the work force. Noam Scheiber took note last summer in The New York Times of the challenges of trying to estimate whether communities would be able to handle such a massive increase in the minimum wage. It's clear that the politicos responsible for this deal are not thinking beyond their own borders. A statewide massive increase in the minimum wage would be horrible for many communities, even if large cities like Los Angeles and San Francisco could absorb the consequences. After looking at the list of cities that had recently passed hikes he notes:
Still, as a general rule, this list is filled with prosperous cities — places it might make sense to single out with high-impact minimum-wage increases. It's their affluence that fuels the demand for low-wage jobs, exacerbating inequality.

"The demand is essentially either driven by higher-income consumers in that area, or by tourism," [Economics Professor Arindrajit] Dube said. These are the very people, he added, who can afford to subsidize a higher minimum wage by paying more at restaurants and clothing stores.
Those are not going to be the same people you find in the farmlands of Imperial County.