Cuba is One Step Closer to Being Less 'Authentic'
Cubans seem to be really happy about it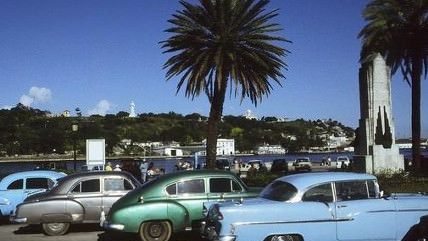 On March 20th, President Barack Obama became the first sitting U.S. president to set foot in Cuba since 1928. He held a press conference with Raul Castro, where he spoke about, among other things, lifting the U.S. embargo on Cuba.
The process of normalization between the two Cold War foes opens Cuba up to some much needed capital and goods from America, like new cars. And while they might provide some of that old world charm, the cars in Cuba are falling apart and have been since the 1950's.
As Michael Moynihan points out in this 2012 Reason TV interview with Kennedy, being more "authentic" might make tourist feel like they're getting the true experience. But for the people living in those countries being more "authentic" typically means being more oppressed.
Original release date was September 7, 2012 and original writeup is below.
"Travel guide writers are obsessed with authenticity," says Reason Contibuting Editor Michael C. Moynihan. "You'll find people who say 'isn't it adorable when you go to Havana that they have all these Packards from the 1950s?' Well, no it's not. This is a pretty grim assessment of the economics of Cuba."

In a recent piece in Foreign Policy, Moynihan dissects several popular travel guides and finds "the guidebooks are clotted with historical revisionism, factual errors, and a toxic combination of Orientalism and pathological self-loathing."

Moynihan sat down with Reason TV's Kennedy to discuss his article, the political and cultural biases in travel guides, and why the burqa should not be considered "a tool for social mobility" as Lonely Planet's guide to Afghanistan suggests.

About 3.30 minutes.

Produced by Anthony L. Fisher, Camera by Jim Epstein and Fisher.