No Street History in Charleston Without a License
Charleston law requires tour guides to pass a test and get licensed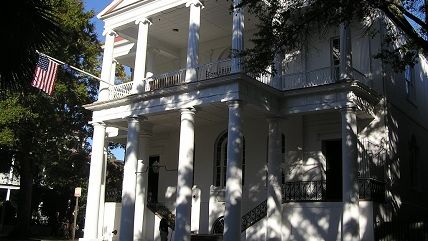 Charleston, South Carolina, is one of the nation's oldest major cities, with a history that stretches back more than 100 years before the Revolutionary War.
As with any old city, there are lots of stories that can be told about it.
There's the Dock Street Theater, which is so old that if "Hamilton" were performed there, it would actually be looking into the future. The theater is supposedly haunted, as any 300-year-old theater ought to be.
There's also Fort Sumter, where the opening volleys of the Civil War were exchanged. There's the famous "Rainbow Row," a set of multi-colored Georgian-style rowhomes, which have survived the wars, hurricanes and fires that have reshaped the city several times since they were built in the 1780s. And of course there's more antebellum mansions than you can shake a stick at.
And if I were telling you all of this while standing on a street in Charleston, there's at least a small chance I'd be arrested for doing it.
That's because anyone who wants to talk about Charleston's history must first obtain a license from the city. Getting that license means passing a 200-question written exam—a passing grade is 80 percent or higher—and then passing an oral exam conducted by taxpayer-funded city officials.
To pass both exams, would-be tour guides have to memorize pretty much the entire history of Charleston.
That's bad news for people like Mike Warfield, who works as a volunteer at one of Charleston's history museums. He planned to give tours of the city's historic pubs and haunted spots—hey, that sounds like the kind of tour I'd want to take—but was told he could do it only if he could pass the city's comprehensive history exam.
He failed. And since the exams are administered only four times per year, his potential business is now on hold.
But since Warfield knows his history, he also knows about a little thing called the First Amendment, which says you have the right to say pretty much anything you want to say—even if the city government in Charleston disagrees.
Warfield is one of three plaintiffs challenging the city's tour guide licensing laws on First Amendment grounds, with the help of the Institute for Justice, a libertarian law firm that challenges silly rules like tour guide licensing. The case is now before a federal district court.
The city maintains that the tour guide licensing system is necessary to "provide accurate, factual and updated information to its visitors and residents." It's cute that they care so much, while also hitting tourists with a 12 percent tax on hotel rooms and a bonus 2 percent tax on meals in the "historic" part of the city—all in the name of "hospitality."
But, look, if you're signing up for a tour about bars and ghosts, well, you're probably going to hear some things that are not 100 percent factual. Actually, you'd probably be a bit disappointed if you didn't.
Even if you buy the city's argument about ensuring historical accuracy, the First Amendment doesn't say that only historically accurate speech is allowed. So, the next time you're in Charleston, gather a group of people around you, point to City Hall, and tell them "this is where the nannies work." It's your constitutional right.
This article originally appeared at Watchdog.org.