Rubio Out of the Race, Big Wins for Trump and Clinton, Obama to Announce SCOTUS Pick: A.M. Links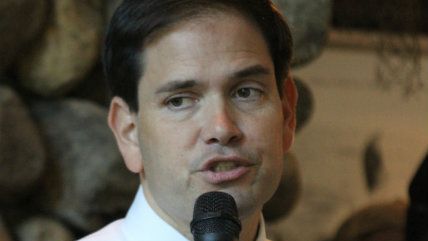 cornstalker/Flickr

Sen. Marco Rubio has suspended his presidential campaign following a lackluster showing in his home state of Florida.

Hillary Clinton and Donald Trump were the big winners in Tuesday's primaries. Clinton bested Vermont Sen. Bernie Sanders in Florida, Illinois, Ohio, and North Carolina while Trump won Florida, Illinois, and North Carolina. Ohio Gov. John Kasich won his home state and votes in Missouri are still being tallied.
Anita Alvarez, the Chicago prosecutor who earned intense criticism for her handling of the "officer involved shooting" death of 17-year-old Laquan McDonald, lost in last night's primary race for Cook County State's Attorney.
President Obama will announce his nominee for the Supreme Court at 11 a.m. today. Though the White House has been mum, Reuters reported that the nominee would be either Judge Sri Srinivasan or Judge Merrick Garland.
Donald Trump's campaign barred a Politico reporter who has been covering it for months from a Tuesday press event, with the explanation that the reporter is "dishonest" and "third-rate," continuing a pattern of barring reporters access if they write about him unfavorably.
Follow us on Facebook and Twitter, and don't forget to sign up for Reason's daily updates for more content.