A.M. Links: Primary Elections Today in Ohio and Florida, Suspected Car Bomb in Berlin, Vermont Legislature Mulls Marijuana Legalization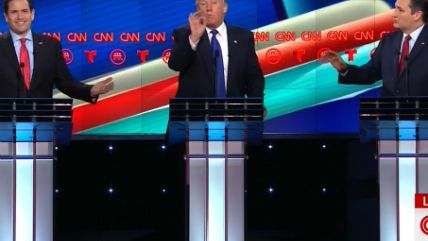 Credit: CNN

Election 2016: Voters head to the polls today in Ohio, Florida, North Carolina, Illinois, and Missouri.
Ted Cruz may be finding "new allies in the GOP establishment he rails against."
"An economist at the Congressional Budget Office suggested on Monday that the federal government could start charging people based on how far they drive in order to generate more government revenues to spend on highway projects."
Vermont may become the first state to legalize marijuana via its state legislature. Previous state legalizations have occurred as a result of voter initiatives.
Follow us on Facebook and Twitter, and don't forget to sign up for Reason's daily updates for more content.