"Next Big Thing" Jerrod Carmichael Disappoints in The Carmichael Show
NBC sitcom Crowded not very good either.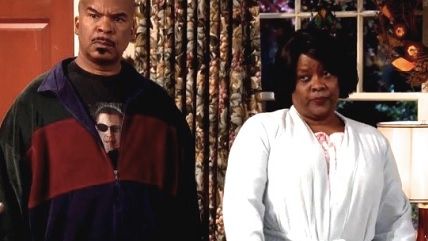 The Carmichael Show. NBC, Sunday, March 13, 9 p.m.
Crowded. NBC, Tuesday, March 15, 10 p.m.
On the first episode of NBC's Saturday Night Live following the Sept. 11 attacks, producer Lorne Michaels asked New York Mayor Rudy Giuliani if it was okay to be funny. "Why start now?" replied Giuliani. Fourteen years later, as the network rolls out two new sitcoms, it sadly appears that nobody at NBC understood the mayor was joking.
That's perhaps a bit harsh on The Carmichael Show, based loosely on the life and relationships of 28-year-old producer and star Jerrod Carmichael, the supposed Next Big Thing in standup comedy. The show (not, technically, a debut, since it got a brief peek during a preview last summer) does deliver some laughs, though not nearly as many or hearty as it seems to think, and in general plays more like an unpolished pilot than a finished product.
Carmichael has a reputation as a take-no-prisoners specialist in the politically incorrect, or maybe take-lots-prisoners-then-waterboard-them and put-their eyes out. In an famous bit in an HBO special a couple of years ago, Carmichael offered the audience a huffy description of how he upbraided the doorman of his opulent apartment building for letting him wander into the lobby while wearing a hooded sweatshirt: "I pay a lot of money—like, a lot of money—so that niggas in hoodies like me can't waltz by you!"
The Carmichael Show is looking for that kind of muzzle velocity as the star swaps cracks around the living room with his crusty father (David Alan Grier, In Living Color), Jesus-will-whup-you mother (Loretta Devine, Grey's Anatomy), bodacious brother (LilRel Howery, Last Comedian Standing) and kale-loving girlfriend (Amber Stevens West, Greek).
Inevitably, they all talk themselves into painful corners: At what income bracket is cheating on your spouse okay? What's the acceptable number of women for Bill Cosby to have drugged and raped?
The problem is that they don't do anything else, literally—in the first two episodes, the characters scarcely rise from the living-room couch. There's no story or character development, just an endless chorus of set-up, punch line, repeat. And the punch lines aren't nearly cutting enough to carry all that indolently dead weight. To hear Carmichael drawl "Shame what he did to those women" while the rest while his father shamelessly engages in Cosby-style mugging may be amusing (and the jury's probably still out on that) but it's not going to make you wet your pants or even that damn couch.
If The Carmichael Show is under-constructed, the not-so-empty-nest sitcom Crowded is more like a fully formed Frankenstein, stitched together from other, proven comedies. There's an Aspergerish nerd snatched from CBS' The Bang Theory, an airhead hottie who wandered over from ABC's Modern Family, and a premise—mom and pop driven bat-guano-nuts by slacker kids moving home—swallowed whole from ABC's Last Man Standing. Rarely has so much been stolen to such little profit.
Patrick Warburton of Seinfeld and Carrie Preston of True Blood play empty-nest parents who've rediscovered the joys of kitchen-table sex and ditchweed highs now that their two daughters have moved out. But when the kids (Miranda Cosgrove, iCarly, and Mia Serafino, Shameless) come scampering home in the face of adult adversity, the party's over.
Crowded actually gets off to a fast start, particularly in the scene when the daughters walk in the door to catch mom and dad in mid-toke with Jimi Hendrix cranked up in the background. ("What if Horton Hears A Who! is real?" Warburton is wondering aloud.) "It's a fucking nightmare!" Preston mourns, which only compounds her grief: "Oh, God, we can't say fucking any more!"
But your buzz will wear off even more quickly than hers. Warburton's expressionlessly ironic delivery turns repetitious; the situations unfunny and even creepy (do daughters really announce their alternative sexual proclivities by making out with a girlfriend in front of dad?) By the end of the second episode, you may even find yourself longing for a good Bill Cosby rape joke.