California Proposal to Let Uber Drivers, Other Sharing Economy Workers, Unionize
New measures pose existential threat to sharing economy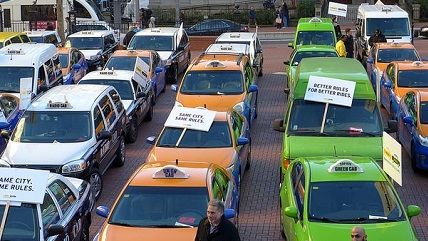 California Assemblywoman Lorena Gonzalez's latest high-profile legislative effort has been billed as a fairly modest measure to provide a "safety net" for workers in the growing sharing economy.
"All we're trying to do is set up a legal framework by which, if there's 10 independent contractors all working for the same employer, they could get together and organize and collectively bargain with that employer," the San Diego Democrat told KFBK radio.
This "legal framework" would do more than "organize" one of the few burgeoning areas of California's economy. Imposing industrial-era work rules on companies such as Uber would squelch the flexibility, innovation and cost-savings that are at the heart of their success. Allowing groups as small as 10 to organize into union-like associations is radical stuff, given the tiny size of such bargaining units. It would make such organizing a fait accompli.
There's little question: The bill poses an existential threat to California's sharing economy.
And the far-reaching consequences of this proposal don't stop at the Sierra Nevada. The newly introduced measure, A.B. 1727, could directly challenge federal antitrust law, which considers independent contractors to be individual businesses. The proposal echoes efforts already passed into law by the Seattle City Council. Gonzalez last year tweeted from Seattle that she was meeting with the "incredible folks behind the Uber organizing legislation. So impressed."
"The bill's passage makes Seattle the first city in the nation to attempt to give drivers the right to collectively bargain with app-based ridesharing companies," reported Capitol Hill Seattle. The newspaper quoted Councilmember Kshama Sawant, who said, "Ever since sharecropping, the sharing economy has meant sharing in one direction. That is, workers have the privilege of sharing what they produce with their bosses."
Really? As I wrote in a 2014 column, these ridesharing applications actually destroy a sharecropping-like system that exists now. In post-Civil-War America, newly freed slaves worked the land—and paid a large share of the crops to the land owners. They got dragged deeply into a cycle of debt and poverty because they could barely earn enough to cover the payment. Under the current model, cities limit the number of permits to operate a cab, which drives up their cost. Cab owners foist those costs onto drivers, who work long hours to pay them.
Before the city dissolved that system, San Diego cab drivers earned around $5 an hour, according to one widely cited report. By freeing drivers from such servitude, Uber, Lyft and other similar platforms enable them to compete and thrive, while paying an affordable portion to the companies. Instead of being servants, drivers are independent business owners. The rise of ridesharing has done far more to improve this antiquated industry than unionization.
The Gonzalez bill differs from the Seattle approach by creating associations of those who work for individual companies and are supervised by a state agency. The bill's backers say it passes antitrust muster because of state involvement, but critics say it still violates antitrust standards. We're still waiting to see the legislative details published, but myriad legal challenges are a near certainty.
For instance, earlier this month the U.S. Chamber of Commerce filed a federal lawsuit challenging Seattle's ordinance. "The ordinance unlawfully authorizes for-hire drivers to engage in this per se illegal concerted action by forming a cartel, speaking as a single unit through an exclusive representative, and engaging in horizontal fixing of prices and contractual terms," according to the complaint. Congress' intent was "to insure that independent contractors remain regulated by 'the free play of economic forces,' or market forces, rather than by city ordinances imposing collective-bargaining schemes."
That indeed is why these app-based businesses—which cleverly work around the current entrepreneurship-stifling and highly regulated business models—do so well. They rely on markets and consumer choice rather than government and union edicts.
Following passage, even Seattle officials expressed concern about their new measure. Mayor Ed Murray let the bill become law, but worried publicly about the cost. Seattle Finance Director Fred Podesta issued this warning: "The proposal raises serious questions under federal and state law, and if passed could involve the city in prolonged and costly litigation."
Seattle's measure only deals with transportation companies, whereas California's effort has begun to metastasize. "On Wednesday Gonzalez broadened the bill's scope beyond the on-demand workers for platforms like Uber, TaskRabbit and Postmates to include contractors in a range of sectors, not just those dispatched by smartphone apps," reported the San Francisco Chronicle. "Truck drivers at the state's ports are another potential target group, for instance, she said."
One Los Angeles Times column from last year suggests the Gonzalez bill might anger unions because it bypasses them to create new associations. But it's hard to see how this effort, pushed by a cadre of longtime union allies, is anything other than a significant expansion of collective-bargaining rights into some of the most innovative portions of the economy. This battle is just beginning, but rest assured, the stakes are anything but modest.