Chinese Government Licenses Living Buddhas, Regulates Reincarnation
Atheist government seeks religious control.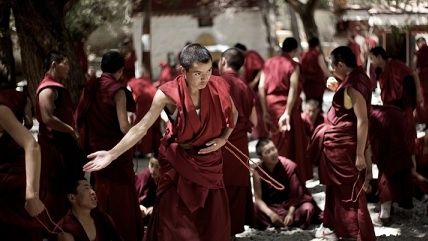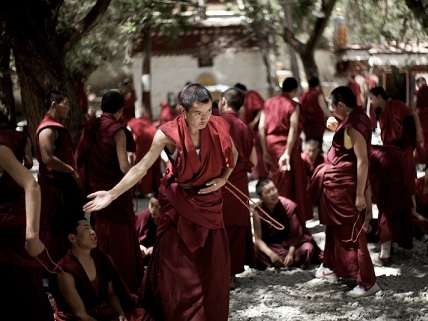 The Communist government in China is moving to try to take more control of the practice of Buddhism in the officially atheist country. The legislature in Lhasa, the capital of Tibet, called on living Buddhas to be approved by central government authorities when it met earlier this week, according to the Los Angeles Times.
China has a licensing scheme for living Buddhas already, as the Times reports:
On Jan. 18, authorities published online an official registry of 870 licensed living Buddhas, searchable by name, temple and identity card number or "living-Buddha card number," to cut down on fraud.

Yet experts say that the system of registering living Buddhas has itself become fertile ground for corruption.

"The thing [authorities] are emphasizing is the database — that's the new hyped up thing," said Barnett. "The way it works is permits. You get a permit from the local religious affairs office, saying you're recognized as a so-called living Buddha. Once you have that system, it means you can pay for it.

"Apparently what that means — and I have several personal sources on this — is that each area has a quota of these to hand out, and the officials in each area just sell their quota," he continued.
Chinese authorities have been working on controlling the authorities of Buddhism in China for decades, and controlling the process of selection is becoming more urgent for them as the Dalai Lama, Tibet's spiritual leader, gets older.
At the legislature, the deputy Communist Party chief in Tibet insisted the Dalai Lama hadn't been a religious leader since leaving Tibet in 1959, when he renounced a previous agreement forced on the autonomous Tibetan government by the invading People's Liberation Army when the Dalai Lama was 20. He is now 80 years old.
He could return to China as a religious leader, the deputy chief said, if he renounced independence for Tibet and called it as well as Taiwan "inseparable parts of China" whose only legitimate government was the People's Republic of China.
The Communist government has managed to control Tibet through religious figures approved by them, including those at the Lhasa legislature. The Dalai Lama has condemned China's efforts at controlling the reincarnation process, calling them outrageous in 2011.
"The enforcement of various inappropriate methods for recognizing reincarnations to eradicate our unique Tibetan cultural traditions is doing damage that will be difficult to repair," he said back then.
There have been regular protests in Tibet for years, with some of the largest and most violent demonstrations in March 2008, surrounding Tibet Uprising Day, which commemorates the 1959 Tibetn uprising and is celebrated on March 10. China has closed Tibet to foreign tourists every March since the 2008 unrest.