Trump Campaign Manager Allegedly Manhandles Breitbart News Reporter Michelle Fields
Witnesses say Corey Lewandowski "forcibly yanked" Fields, "nearly bringing her down to the ground."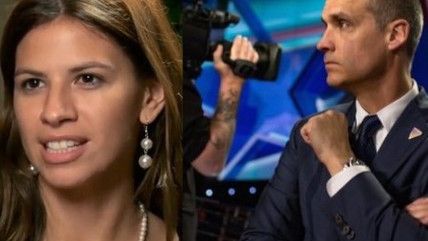 According to multiple witnesses present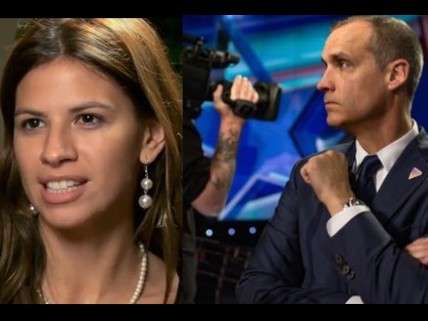 at last night's Donald Trump press conference, where he celebrated another string of primary victories by showing off his dubiously-branded line of products, Trump's campaign manager Corey Lewandowski "forcibly yanked" Brietbart News reporter Michelle Fields, "nearly bringing her down to the ground" as she tried to ask a question of the Republican presidential frontrunner.
Reason readers may remember Fields from the 2011 Reason TV video where she memorably got actor Matt Damon to lose his cool on both her and producer Jim Epstein by asking a pointed question about tenure for public school teachers, and while she writes for one of the more Trump-friendly media outlets, Brietbart News' reporters are not monolithically in the tank for the real estate tycoon.
Politico cited an unnamed witness of the alleged incident, who said that Fields tried to ask Trump a question while the Secret Service was clearing a path for him to leave the press conference. At that point, the witness reported Lewandowski grabbed Fields' arm, "moving her out of the way and nearly bringing her down to the ground."
Daily Caller Senior Editor (and Fields' boyfriend) Jamie Weinstein, who was also present at the press conference, called Lewandowski a thug on Twitter and said that "other reporters" also witnessed the altercation:
Trump always surrounds himself w thugs. Tonight thug Corey Lewandowski tried to pull my gf @MichelleFields to ground when she asked tough q

— Jamie Weinstein (@Jamie_Weinstein) March 9, 2016
As Reason noted last week, thanks to the 2012 passage of the euphemistically-titled Federal Restricted Buildings and Grounds Improvement Act, disrupting a Trump event can be prosecuted as a federal crime because it technically interferes with government business, that business being the Secret Service's protection of Trump's safety.
A reporter who saw last night's incident told Reason that what was particularly striking wasn't so much the physicality of the incident, but the fact that it was a senior campaign staffer, rather than private security, police, or the Secret Service engaged in such behavior, and that it happened in plain sight of a room full of reporters.
Lewandowski was the subject of a pretty sympathetic Wall Street Journal profile last month, where he was described as a prodigious imbiber of highly caffeinated energy beverages, and like his boss is "brash and ambitious, demands loyalty and subsists on little sleep."
Formerly the New Hampshire director of Americans For Prosperity, Lewandowski impressed state Sen. Andy Sanborn (R-NH) with his demonstrable passion and energy. Sanborn told NPR that with Lewandowski, "You know he's in with both feet and both hands and he's working 100 miles an hour, and he was a formidable adversary or an incredible ally, whatever the issue is."
Perhaps Lewandowski was a little too jacked-up one of the dozen Red Bulls he's said to consume daily, or perhaps he was just in it "with both feet and both hands" in an effort to protect Trump from what he deemed to be an overly aggressive reporter. Either way, his behavior is evident of the campaign's increasingly antogonistic and physically confrontational posture toward the press.
Sure, Trump's campaign isn't the only one with an overt hostility to the news media, as Hillary Clinton's people have notably kept the press roped-off and caged-in on a number of occasions. But Trump events have been marred by threats and violence against both members of the press as well as demonstrators, which Trump has repeatedly condoned.
In this video, Lewandoswki can be seen personally threatening to revoke the credentials of a CNN producer if he didn't remain in the "press pen," and he has also reportedly threatened to "blacklist" journalists from being credentialed at future Trump events.
In January, Fox News called Lewandowski out by name in a statement defending frequent debate moderator Megyn Kelly from "any more threats" from Trump's campaign manager, adding "We can't give in to terrorizations toward any of our employees."
Brietbart News CEO Larry Solov released a statement stating, "It's obviously unacceptable that someone crossed a line and made physical contact with our reporter." Solov added that if the accusation is true, Lewandowski "owes Michelle an immediate apology."
Reason reached out to Fields, Weinstein, and Lewandowski for comment but have thus far received no response.