14-Year-Old Arrested for Prostitution for Her Own Good, Say Indiana Cops
Police have been investigating the case for more than a month.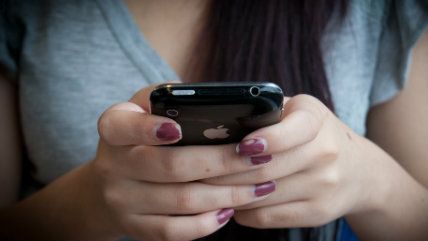 (Jhaymesisviphotography/Flickr)
In Bloomington, Indiana, a 14-year-old girl was arrested Tuesday on prostitution charges after texting older men and offering sex for a fee.
A case of cops making a hasty arrest before having all the facts? Nope—detectives have been investigating the case for more than a month, reports the Indiana University student newspaper, in a story that I confirmed with the Bloomington Police Department (BPD). Police Captain Steve Kellams told the student paper that by charging the girl with prostitution, the "goal is to ensure that this teen gets all of the help available."
After being arrested Tuesday morning, she was charged in the juvenile system with misdemeanor prostitution, Kellams told me Wednesday morning. She was not placed in jail but will have to go in front of a judge. Whatever the outcome, he assures me, the state's juvenile justice system "is designed around treatment and not punishment."
Bloomington detectives began looking into the case after a woman reported seeing texts from the girl, who had claimed to be 17, on her husband's phone. Kellams said it became clear investigating the teen's communications that she had offered to have sex for money with several individuals, communicating with them over Facebook and via text message. None of the men have been charged.
Asked whether it was generally Bloomington police policy to arrest people selling sex no matter their age, Kellams told me their directive was to "just follow state law."
Under federal and some state laws, teens selling sexual services are defined as "sex trafficking victims" whether they're working for/with anybody or not. This is problematic as it both inflates victim numbers and leads to the arrest of anyone tangentially connected with teen sex workers, because if they're the victims by default then someone—often a slightly older sex worker helping or working with the teen—must be held accountable. In these instances, law-enforcement agents are more than willing to refer to 17-year-old as "child victims" and charge anyone in their vicinity with human trafficking.
But while it's refreshing (if surprising) to see police in Bloomington acknowledge that teen girls do have agency and avoid the typical sex-trafficking scaremongering, the solution they're sticking with seems equally unjust. We're talking about a girl barely past puberty who messaged some men on Facebook. Couldn't cops have simply talked to the girl's guardians? How will she possibly be helped by having a criminal record before she even finishes her freshman year?