A.M. Links: GOP Debate Tonight, Bernie vs. Hillary, Apple vs. FBI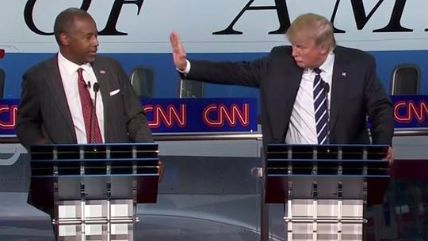 CNN

The remaining Republican candidates will face off tonight at a presidential debate in Houston.
Mitt Romney is challenging Donald Trump to release his tax records. "We have good reason to believe that there's a bombshell in Donald Trump's taxes," Romney said. "Either he's not anywhere near as wealthy as he says he is, or he hasn't been paying taxes we would expect him to pay or perhaps he hasn't been giving money to vets or to the disabled like he's been telling us he's been doing."
Bernie Sanders "is blaming America's poverty crisis on Hillary—for her husband's welfare policy."
"Fearing that the government may be able to order it to bypass security features in newer-model phones, Apple has quietly begun working on enhancements that would prevent the company from updating the software of an iPhone without knowing a user's password, according to individuals familiar with the effort."
Ammon Bundy and nine others involved in the occupation of the Malheur National Wildlife Refuge in Oregon appeared in federal court yesterday, where they entered pleas of not guilty to federal conspiracy charges.
Follow us on Facebook and Twitter, and don't forget to sign up for Reason's daily updates for more content.