Obama Proposes Basic Plan to Close Gitmo, Needs Congress to Approve
Doesn't appear to be doing much to get Congress on board.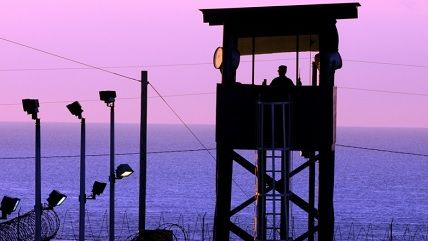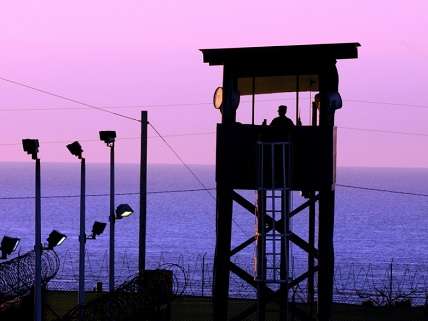 President Obama has again proposed a plan to close the detention facility at Guantanamo Bay, more than seven years after first signing an executive order mandating its closure.
Obama's proposed plan involves the "careful" transfer of 35 detainees to other countries, expediting the review process for the possible transfer of the other 56 detainees to other countries, use of "all of the legal tools" to resolve remaining detainee cases before military commissions, and transferring detainees who cannot be sent overseas to an undetermined facility in the United States.
Obama promised to keep working on closing Guantanamo at his last State of the Union, but nothing in this proposal appears like anything that couldn't have proposed last month or last year. Critics of the closure of Guantanamo Bay, like Sen. Kelly Ayotte (R-NH), say they want to know more about the "terrorist activities and affiliations" of detainees before approving any plan on closing Gitmo.
Obama's first attempt to close Guantanamo, in 2009, was thwarted in large part by then Senate Majority Leader Harry Reid (D-Nev.). Before announcing the current plan, the White House started a feud with Sen. Chuck Schumer (D-NY), Reid's likely replacement as Senate Democratic leader, over terror funding (and/or?) the Iran deal. Schumer had complained, as New York politicians are wont to do, that the federal government was not sending New York enough taxpayer money for counter-terrorism.
"At some point, Sen. Schumer's credibility in talking about national security issues, particularly when the facts are as they are when it relates to homeland security, have to be affected by the position that he's taken on other issues," White House Press Secretary Josh Earnest said last week, referring to Schumer's opposition to the Iran deal rather than attempting to make some kind of principled case for smarter federal spending on counter-terrorism. That failure, and Obama's apparent relish in bucking Congress on issues ranging from foreign policy to immigration, don't bode well for the Obama administration's prospects of success on closing Guantanamo.
Meanwhile, Republicans like the presidential candidate Texas Sen. Ted Cruz, worry that closing the detention facility at Guantanamo Bay would be just a worrying step toward something they consider even worse. "He is releasing terrorists that our soldiers bled and died to capture," Cruz told a CNN town hall last week, misrepresenting the transfer of detainees from Guantanamo. "And the next president is going to have to send soldiers out to capture them again or kill them when they return to waging jihad."
Cruz continued: "And I fear that by the end of this year President Obama plans to give the Guantanamo Navy Base back to Cuba, which would be undermining U.S. national security interests profoundly."
At least he's a defender of the Constitution and not a neo-con?