Trump Wins South Carolina, Jeb Bush Drops Out, NASA Releases Audio of 'outer-space type music': A.M. Links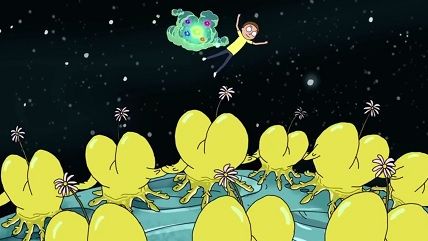 "Rick and Morty"/adult swim

At least 140 people died in Syria after twin ISIS bombings in Damascus and Homs.

Donald Trump won the South Carolina Republican primary, while Hillary Clinton just barely beat out Bernie Sanders in the Nevada Democratic caucus. Jeb Bush dropped out of the race after a poor showing.
The FBI insists Apple help it break into the iPhone of one of the San Bernardino shooters, a county health inspector, even though the agency had the county government, which owned the phone, reset the iCloud password. Without the password reset, Apple says it would be possible to access information from the phone without dealing with encryption. Apple CEO Tim Cook, meanwhile, called for a commission on technology and intelligence gathering.
An Uber driver allegedly shot at people randomly in Kalamazoo in between picking up rides, killing at least 6.
A bill proposed in California would make accessing internal reports on police abuse easier and more in line with the process in states with more open records, like Texas and Florida.
The United States will reach record oil output by 2021, according to the International Energy Agency.
NASA released audio of "outer-space type music" that Apollo 10 astronauts on the far side of the Moon reported hearing.