Bernie Sanders and Hillary Clinton Fight for Feminist Crown
On the left, the battle over whether Hillary Clinton or Bernie Sanders is more feminist has gotten surprisingly heated.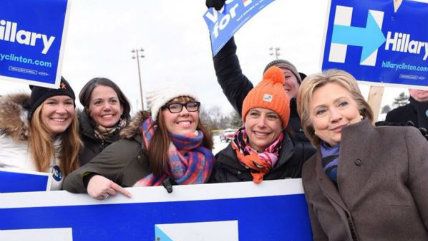 (Hillary Clinton/Instagram)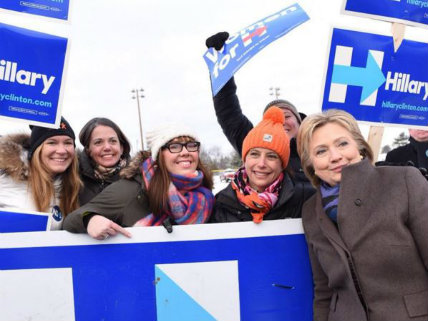 One would be the first woman to get the Democratic presidential nomination and, if successful, go on to become the first female president of the United States. The other is an old, white man. Yet the question of who's more of a feminist, Hillary Clinton or Vermont Sen. Bernie Sanders, has provoked surprisingly impassioned debate and a volatile divide on the left.
Since the Sanders campaign started, female fans have had to fend off accusations that their support is anti-feminist. Last week, women's rights icon Gloria Steinem even suggested that young women only support Sanders to attract boys, and former secretary of state Madeleine Albright opined to Democratic voters that "there's a special place in hell for women who don't help each other." Meanwhile, Bill Clinton accused "Bernie Bros"—a term that seems to have become a derogatory catchall for Sanders supporters of any gender—of "vicious" and "profane" sexism. Since then, an array of feminists for Bernie have come out swinging, challenging the idea that XX-chromosomes a feminist candidate makes.
"I can't think of anything less feminist than suggesting that women should vote for a woman because of her gender alone," writes Time Assistant Managing Editor Rana Foroohar. "It's an outdated (and establishment) way of thinking about gender politics."
At The Village Voice, millennial writer Holly Wood puts it more bluntly: She'd "rather go to hell than vote for Hillary."
Some say supporting Clinton is a radical position, notes feminist socialist Liza Featherstone, but "no one who makes this argument can articulate what, beyond her identity as a woman, qualifies Clinton as a passable candidate for socialist feminists." And while "a Clinton presidency would be symbolically uplifting," it would also preclude the "possibility of genuinely improving the lives of most of the world's women."
At Jewish newspaper The Forward, Stefanie Iris Weiss declares that she "won't apologize" for supporting Sanders, even it's earned her "a hell of a lot of side eye (and worse) from people that I usually agree with." What Weiss' friends don't understand, she writes, "is that I'm not for Bernie in spite of my feminism–I'm for Bernie because of my feminism."
RoseAnn DeMoro, executive director of America's largest nurse's union, concurs, proclaiming that she will "vote for the best feminist for president: Bernie Sanders." Clinton's camp "doesn't get to define for us the appropriate way to live up to our feminist ideals," DeMoro writes.
Feminist fans of Clinton, however, haven't taken this apostasy quietly. "Yes, millennials, Hillary Clinton is a feminist," lectures Los Angeles Times columnist Meghan Daum. "Clinton's record on women's rights is about as solid as it gets."
"I've always admired Sanders, but I happen to think he has more than a tin-ear on gender," feminist politcal analyst Joan Walsh wrote last week.
At New York magazine, Annie Lowrey makes the case that Clinton "is still a revolutionary candidate," even if her supporters have mangled the message with too much gender and generational warfare.
And at pop culture site Pajiba.com, Courtney Enlow writes in a largely all-caps post: "I'M NOT SAYING THERE AREN'T REASONS SOMEONE SHOULD DISLIKE HILLARY OR PREFER BERNIE. THAT IS FINE. THAT IS YOUR JOURNEY. BUT LET'S NOT PRETEND FOR A SECOND THAT THERE WOULD BE *THIS MANY* ISSUES WITH HILLARY IF SHE WAS A GODDAMN MAN."
The New Hampshire primary results could prove interesting for the Clinton/Sanders gender gap. While millennial women tend to break for Bernie—in Iowa, he outpaced Clinton among young women six to one, and a recent USA Today/Rock the Vote poll had him leading by 20 percentage points with the cohort—in most places Clinton still leads with women overall. But not so in New Hampshire, where not only has Sanders polled better overall going into the primary but also leads among Democratic women 50 percent to 46 percent.
As far as media cycles go, we seem to be in the midst of the kind of backlash to the backlash to the backlash that leaves all sides here asking, can't we get along? "Both Bernie Sanders and Hillary Clinton are feminists," writes Hillary E. Crawford today at Bustle. "Instead of pitting feminists who support Clinton against feminists who support Sanders, female icons should be encouraging women to find common ground."
And on The Cut today, Ann Friedman implores the chattering classes to stop it with the narrative that feminist fans of Clinton and Sanders are in the midst of some grand, generational battle for the movement's soul.
"When narratives pit women against each other in such a direct and obvious way, that usually means it's time to start asking deeper questions," writes Friedman. "Why do we care what two 80-year-old women think of young women's feminism? Why aren't we asking young women which candidate they're supporting and why? Why aren't interviewers asking older women why their contemporaries aren't exactly raging for Hillary either? Women young and old still experience sexism, and they want to end it. The difference is that some women see electing Clinton as part of how to end it, and others do not."