Another Fatal Shooting Highlights Poor Police Handling of Mental Health Crises
Viral video star shot to death in Arizona when police respond to suicide attempt.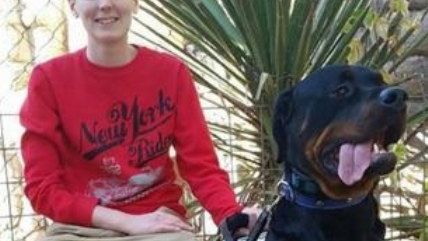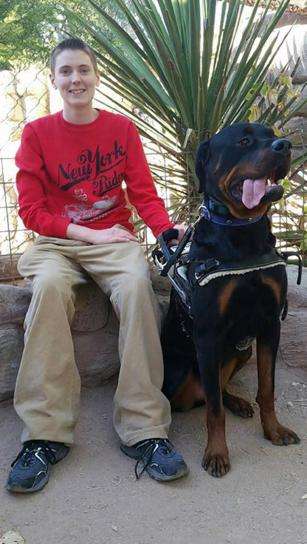 This weekend saw yet another lesson showing why Americans often don't—and often shouldn't—call 911 to deal with a mental health crisis. A young transgender man with Asperger's Syndrome (a form of autism) was a brief viral hit over the summer over a video show how his emotional support dog assisted him when he was having a meltdown and hurting himself.
The man, Kayden Clarke, 24, (referred to in some stories as Danielle Jacobs—Clarke had just recently begun his transition apparently) is now dead, shot by police who been called to his home in Mesa, Arizona, by people who were concerned about a possible suicide attempt. He had apparently sent out some emails asking for somebody to take care of Clarke's dog should something happen to him.
According to police, a team of officers showed up to Clarke's place, where they found him threatening to harm himself with a knife. According to police, Clarke approached an officer with a knife and "extended it out." The officers "felt threatened" and opened fire, killing him.
The police officers were not wearing body cameras, so we have no way of determining whether or not the officers' perception of Clark's behavior was accurate. According to police, one officer went to get a beanbag gun while another officer attempted to de-escalate the situation. But obviously that didn't happen.
Worthy of note: Only a fifth of Mesa police have completed crisis intervention training to learn how to de-escalate situations with mentally ill or otherwise disabled individuals. But also of note: one of the officers on the scene had completed this training, according to the Phoenix New Times.
The police said they were not aware of Clarke's mental health history, though apparently police were called to the home for a similar possible suicide attempt two years ago. A police spokesman said, "All we knew is that [Clarke] was trying to commit suicide."
It's important to think about incidents like this whenever an obviously mentally ill person causes harm to others and people ask, "Why didn't anybody do anything about his behavior before?" In addition to the fact that there's no real reliable way to predict whether a generally non-violent person with mental health issues is an actual threat to others, we keep seeing situations where people call 911 to assist in a crisis, and this is what happens. This is far from the first time Reason has made note of how police responses to fears of suicide ended in violence or death, and it probably won't be the last. The police are training citizens not to call for help in an emergency related to mental health issues. Certainly several residents in Mesa have just learned this lesson.