The Internet is Becoming a Safe Space
Twitter, CNN, and Reuters don't want to read your opinions about race, immigration, or Islam.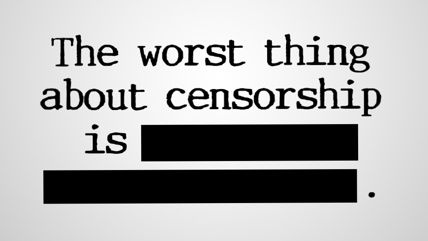 Internet trolls, be gone! Popular publications and social media sites are stepping up their censorship of interactive spaces, shielding the delicate eyes of the common commenter from every kind of digital taboo, from spam to hate speech.
Twitter's transition from free speech service to safe space began last March with a ban on revenge porn. A month later, tweets deemed to incite terrorism joined the ban-wagon. Then came any comment that could provoke violence "on the basis of race, ethnicity, national origin, religion, sexual orientation, gender, gender identity, age, or disability."
The Guardian has followed suit, forbidding "toxic commentary" on a wide variety of subjects, from race and immigration, to Islam. Reuters, CNN, and the Chicago Sun-Times have either ditched their comments sections or have restricted them into near oblivion.
These are potentially expensive, unfair, and ineffective tactics for coping with online vitriol. Establishing clear definitions for "hate speech" can be a semantic mine field of subjective and contradictory interpretations. The humorless algorithms guiding software censor-bots can unthinkingly delete constructive criticism. These measures are likely to discourage the very audience participation and smart commentary that makes the web an exciting and democratic place to be.
But it's not illegal. The censorship of private organizations is limited by the will of their owners, subject to the immediate accountability of a fickle and fiercely competitive online marketplace of news and social media. By contrast, governments are limited in their ability to curtail free speech, though where the state draws the lines is always a tricky endeavor.
When does free speech become a legitimate threat of violence? The state of Montana was recently put to just such a test. An angry loner in the picturesque mountain town of Whitefish was sentenced to five months in prison for anti-Semitic tweets. Did police avert a mass shooting? Or is this the kind of law enforcement overreach that the First amendment was designed to stop?