Bernie Babes Banned From Tinder for Too Much Campaigning
But the "Bernie Sanders' Dank Tinder" campaigners won't stop.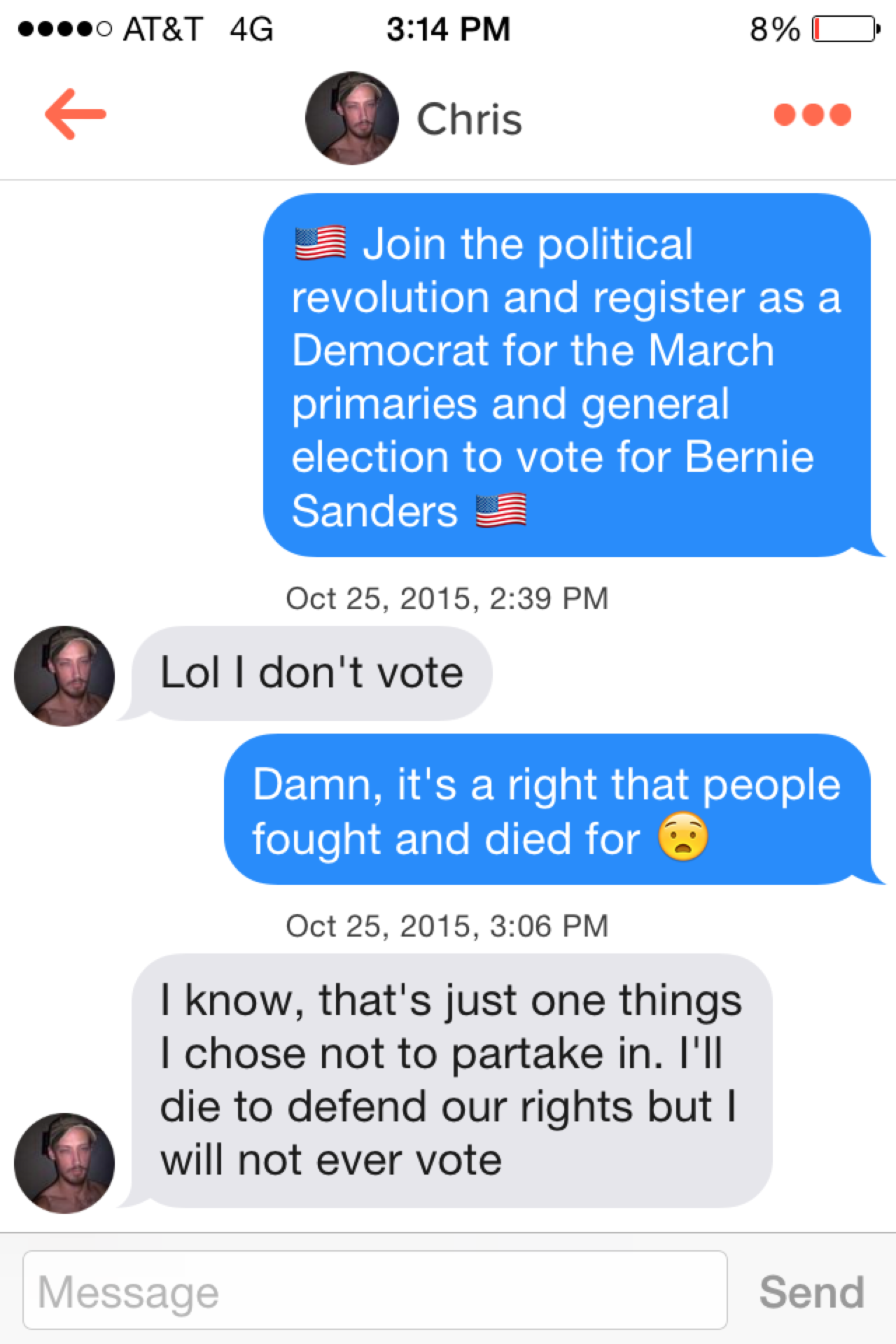 Two supporters of Vermont Sen. Bernie Sanders have been blocked from Tinder after stumping for the Democratic presidential candidate through the dating app. The women—Robyn Gerdrich, 23, and 22-year-old Haley Lent—confirmed to Reuters that Tinder had locked their accounts after too many reports that they had been messaging men with questions like "Do you feel the bern? Please text WORK to 82623 for me. Thanks."
Sending that text would sign someone up to receive text updates about the Sanders campaign and volunteering opportunities.
Neither Lent nor Gerdrich are employed by the Sanders campaign.
Gerdich told Tech Insider: "I started it about two weeks ago when we got that snow storm in New Jersey. There's so many lazy millennials that would never read about Bernie unless someone sent it right to them [on Tinder]."
Lent told Reuters that she had purchased a premium Tinder membership, which allows users to choose a location other than the one they're physically in, so she could get in touch with men in New Hampshire.
"I would ask them if they were going to vote in their upcoming primaries," she said. "If they said no or were on the fence, I would try to talk to them and persuade them to vote."
On Tumblr, "Tinder Campaigning" shares other efforts from Sanders fans to campaign for their candidate on the app. And even more right-swiping for Sanders can be found via the Facebook group Bernie Sanders' Dank Tinder Convos. (Some fun examples below.) The majority of the Sanders outreach shared in these groups comes from women. Could the Bernie Babes of Tinder finally put an end to the media-manufactured "Bernie Bros" narrative?