Pharmabro Smirks at Congress, 16 Indicted Over Oregon Occupation, More Aid Pledged for Syrians: P.M. Links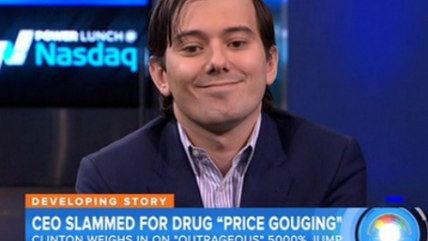 Famously loathed pharmabro Martin Shkreli today was confronted by the only people in America liked less than him: members of Congress. He refused to testify at a hearing about jacking up drug prices, invoked the Fifth Amendment, smirked through the congressional ranting, and then apparently called them "imbeciles" on Twitter.

A grand jury has indicted 16 people for roles in the takeover and occupation of the Malheur National Wildlife Refuge in Oregon. They are accused of preventing "federal officials from performing their official duties by force, threats, and intimidation."
The attorney for one of the activists charged in connection to the making of undercover videos about Planned Parenthood's fetal tissue practices says his client will not accept a plea deal offer that would punish him with probation.
Guess what happened to hiring in cities where minimum wages were jacked up in 2015?
The bankrupt city of San Bernardino, Calif., has apparently reached an agreement with a creditor over its $50 million in pension obligation bonds, but the details have not been released.
Diplomats from 20 different countries around the world today pledged $10 billion to assist Syrians.
Follow us on Facebook and Twitter, and don't forget to sign up for Reason's daily updates for more content.