Of Porn Stars and Presidents: What the Adult-Entertainment Industry Thinks of the 2016 Candidates
At the industry's biggest gathering, fear and loathing for Republicans was high. But can porn trust Hillary?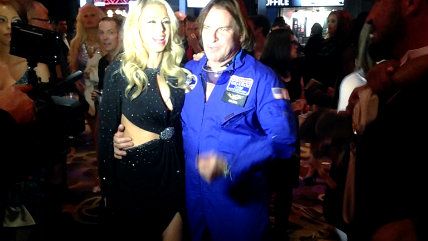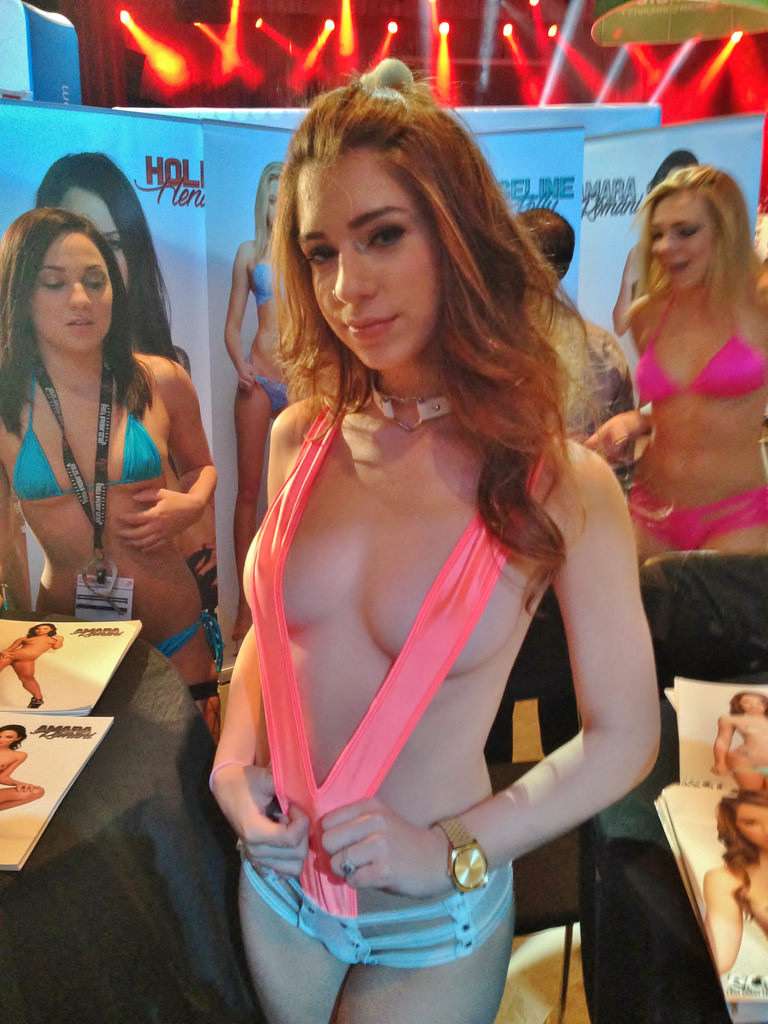 In Salt Lake City recently, a Republican state senator filed a bill to declare pornography a "public health hazard" and an "epidemic that is harming the citizens of Utah and the nation." Five hours away in Las Vegas, America's porn industry was gathering en masse to celebrate the year's adult-film achievements and hawk sex toys, tech, and fantasies. When the subject of politics came up—and it did, in various capacities, throughout the four days of the 2016 AVN Adult Entertainment Expo, the industry's biggest trade show and fan gathering—one of the most pervasive themes was fear and loathing for the Republican Party. So Sen. Weiler's anti-porn bill is right on beat with adult-industry expectations.
But are industry expectations stuck in another era? Would Democrats really be better for smut? The Obama administration has been using the specter of "sex trafficking" to go after online speech and web businesses and encourage hotel-staff to report suspicious condom usage to the Department of Homeland Security (DHS). It's not much of a leap from cracking down on prostitution to condemning the porn industry as complicit.
As recently as 2005, Hillary Clinton railed against both "violent video games" and pornography as part of a bill to ban certain games for minors. That was the same year Democrats in the Senate wanted to enact a 25 percent federal excise tax on porn websites. And under the Bill Clinton administration, Congress passed the Child Online Protection Act of 1998, which imposed criminal liability on porn sites if children viewed "harmful" material there.
While Democrats have historically been less keen on obscenity prosecutions and less vocal about values and "decency," they've also proven themselves plenty willing to censor and tax adult-oriented business in the name of pubic health and safety. With the old Moral Majority reframing its message as one against sexual exploitation—literally, the values group changed its name to the National Center on Sexual Exploitation in 2014—the right may have more luck picking up feminists and other social-justice types for the cause.
PORN STARS FOR SANDERS
Yet understandably, the adult-film business still leans left. At the AVN Expo, younger performers with an opinion on the 2016 presidential race almost exclusively advocated for Bernie Sanders.
"I really like Bernie," says adult star Alison Tyler, 26, a Los Angeles native whose pre-porn jobs included Green Peace activist and working for a company that made gears for Lockheed and Boeing. More recently, Tyler played Wonder Woman in Batman v. Superman XXX: An Axel Braun Parody. "I find it real interesting because you don't really see… I don't want to put this wrong, but you don't really see older white men that are as cool as [Sanders] is."
"I think Bernie Sanders is probably on top for the industry," Tyler adds. "I know a lot of women started out following Hillary, but I think that was just on the basis that she was a woman, and then when people started listening to her they're like, uhhh, maybe not."
Performer Jojo Kiss, 20, also favors Sanders, finding the prospect of a Donald Trump presidancy "so terrifying it just makes me want to cry and get in the fetal position." Asked if she thinks a Republican president would be bad for the porn industry, Kiss—who spent several years at a Christian school and is dressed like a slutty nun—interrupts me to stress that "there's nothing wrong with a Republican. It's just the very, very conservative, religious Republicans, where most of their beliefs are based on the bible."
Adult star Natasha Nice, 27, reached out to me on Twitter because she'd been talking "about liberty and porn" with someone who recommended she check out my work. I dropped by Nice's booth at the AVN Expo and she explained that she's been reading John Stuart Mill's On Liberty and thinking about how it applies to pornography. (Swoon.) But having not paid close attention to the 2016 race so far, Nice says "off the top of my head I would probably say Sanders" is her favorite candidate.
"I think it's a big millennial thing," says Alexa Grace, 21, of Sanders' popularity.
THE RARE REPUBLICANS OF PORN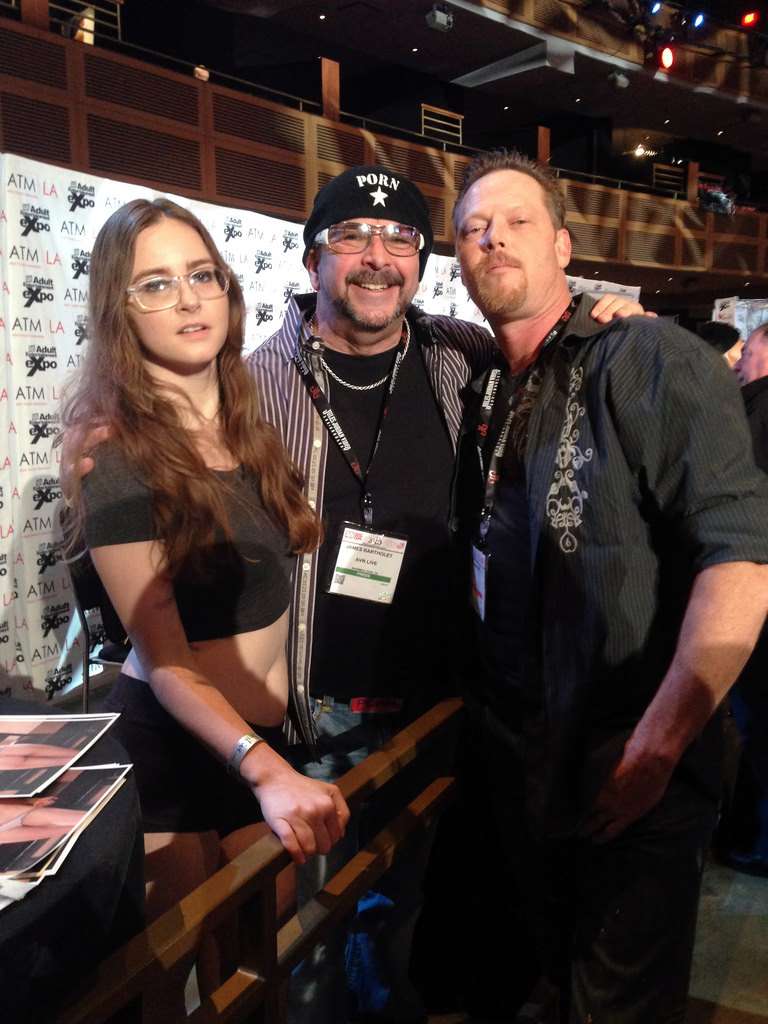 Indeed, only one millennial porn performer I talked with—24-year-old Jay Taylor—identified as a Donald Trump fan. "My view is very unpopular," Taylor tells me. "I'm one of the very very very few" Trump supporters in the industry.
Taylor points me to another of these rare creatures, 46-year-old adult star Dick Chibbles. A native New Yorker who played the Donald in last year's Donald Tramp—The XXX Parody, Chibbles calls the candidate "the voice of Americans" because "he doesn't candy coat shit like 99 percent of all these other candidates, which is what America needs."
In Washington, "you've got your one side, you've got your other side, it's two wings of the bird but it's the same bird," Chibbles complains. "They all answer to the same corporate entity. Whereas you got Trump, he doesn't need money, he doesn't need contributions, he actually genuinely cares—I mean, he's feeding his ego, too, but he cares."
Neither Taylor nor Chibbles think Trump would be bad for porn. Chibbles notes that "right after I played Trump for WoodRocket TV, I tweeted the pictures of myself as Trump to RealDonaldTrump on Twitter, and you know, he liked it."
"He's a businessman," says Taylor, adding that her goal is "to be as rich as Donald, and I can't get that by voting for Bernie."
Former MTV Teen Mom Farrah Abraham, who now runs a webcam site called Farrah's Friends, also pointed to Trump's business record as a perk. Though Abraham declined to say who she would be voting for, she did say it would be "someone very business focused."
FEAR OF OBSCENITY PROSECUTIONS LINGER
But off the expo floor, both Trump and Sanders received much less favorable reviews from adult-biz veterans. "How does socialism fit into the porn agenda?" asked retired porn star Evan Stone at a January 20 panel on porn and politics. He thinks Clinton will be indicted and then "Trump will take this election"—though it's not a scenario that Stone, a libertarian, is happy about.
"I am really afraid that there are enough stupid people that Trump can win," said fellow panelist Dee Severe, an adult filmmaker and dominatrix. Personally, Severe's loyalties lie with Clinton.
"Trump really has this efficient system of demonizing people," she said, and "what is more easy to demonize than porn? That would be a really easy thing for him to do to show, 'look, I really am conservative,' you know, nevermind the three wives and Miss Universe and all that."
California attorney Clyde DeWitt also thinks Trump would go after porn to appease the Republicans' evangelical base. Dewitt noted that Ronald Reagan didn't target obscenity in his first term, but "obscenity prosecutions started big-time in 1984 when Reagan realized he owed the evangelicals something. And what he couldn't give them was to overturn Roe v. Wade," so instead he got tough on obscenity.
"In 2020—if Trump's elected in 2016—he's going to say, 'I need the evangelicals,'" DeWitt cautioned. Asked if there's a candidate that "sends shivers" down their spines, Dewitt and Severe agreed on Texas Republican Sen. Ted Cruz.
IS PORN PERSECUTION PAST?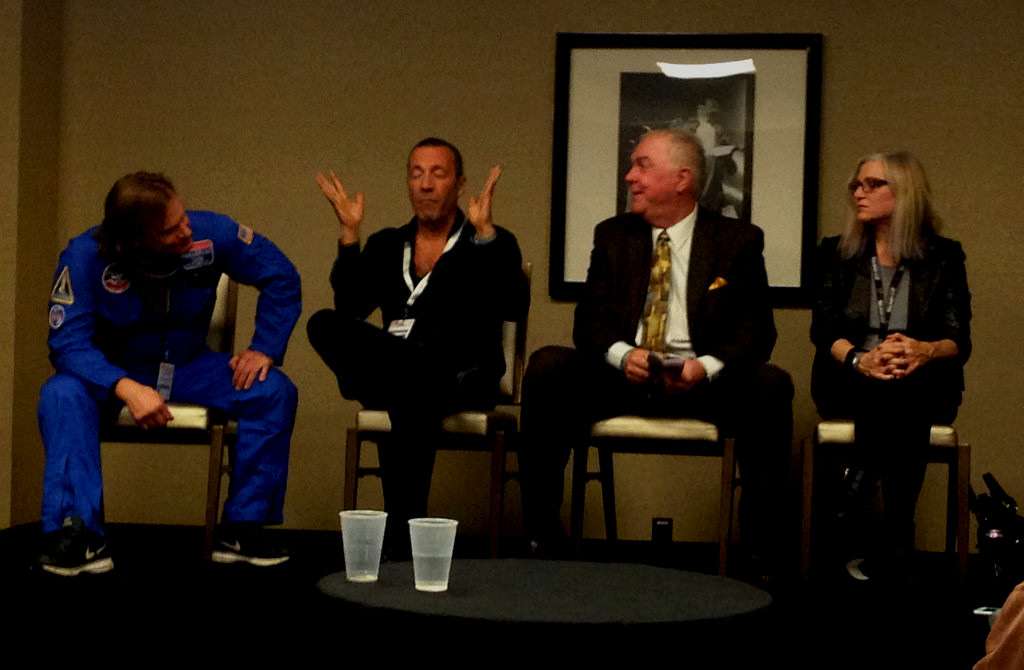 Former porn actor and Evil Angel studios founder John Stagliano said he plans to vote for "whoever the Libertarian Party runs" because it's the only party that rejects "warmongering." (Disclosure: Stagliano is a donor to the Reason Foundation, the nonprofit that publishes Reason magazine.) Stagliano noted that he did like Rand Paul, but no longer believes the candidate has a chance. A "best case scenario" at this point would be Bernie Sanders and a Republican Congress, Stagliano added, because Sanders would be good at diplomacy and foreign policy but Congress would keep him from passing any of his "socialist agenda."
But Stagliano—himself the target of a George W. Bush-era obscenity arrest over Evil Angel titles such as Milk Nymphos—did not share some panelists' fears that Trump, Cruz, or any Republican president would target porn. The era of support for that is over, he suggested, as people in general are becoming more tolerant of one another's sexual activities and identities. "I don't hear any [of the 2016 presidential candidates] talking about pornography at all," said Stagliano. "I don't hear the evangelicals feeling like they're powerful, like they were with George Bush, like they could get the president to create an anti-obscenity task force."
Under Bush, the Department of Justice had launched an Obscenity Prosecution Task Force in 2005 with a mission to "protect citizens from unlawful exposure to obscene materials." And as recently as the 2012 election season, GOP candidates including Mitt Romney, Rick Santorum, and Newt Gingrich all promised strict enforcement of federal obscenity laws.
But now, "it seems you can put the anti-obscenity idea in the same context as gay marriage," Stagliano said, meaning political opposition to both porn and same-sex marriage has fallen out of vogue.
Stone seemed less sure, however. Marriage equality won "by showing attractive gay men holding hands, and everyone was like 'awww. They're like kittens!'" he said. They won "by not showing the sex stuff. But we show that!"
DeWitt countered that culture and public opinion aren't the point. "Assuming the next president serves 8 years," he said, Supreme Court Justice "Ginsberg's gonna be 91 by the time the next president is done, Robert's gonna be 86, and Scalia and Kennedy are going to be 88. The next president will probably have four appointments on the Supreme Court."
The future appointment of Supreme Court Justices was also a big topic for experts on an AVN Expo panel about legal issues. Overall, the adult industry "will suffer greatly if a Republican is in the White House," said J. Michael Murray, a partner with Cleveland appellate law firm Berkman, Gordon, Murray & DeVan who represents the adult-film trade group Free Speech Coalition. Murray and fellow panelists Paul Cambria, Allan Gelbard, and Karen Tynan all agreed that the GOP would be bad news for adult business.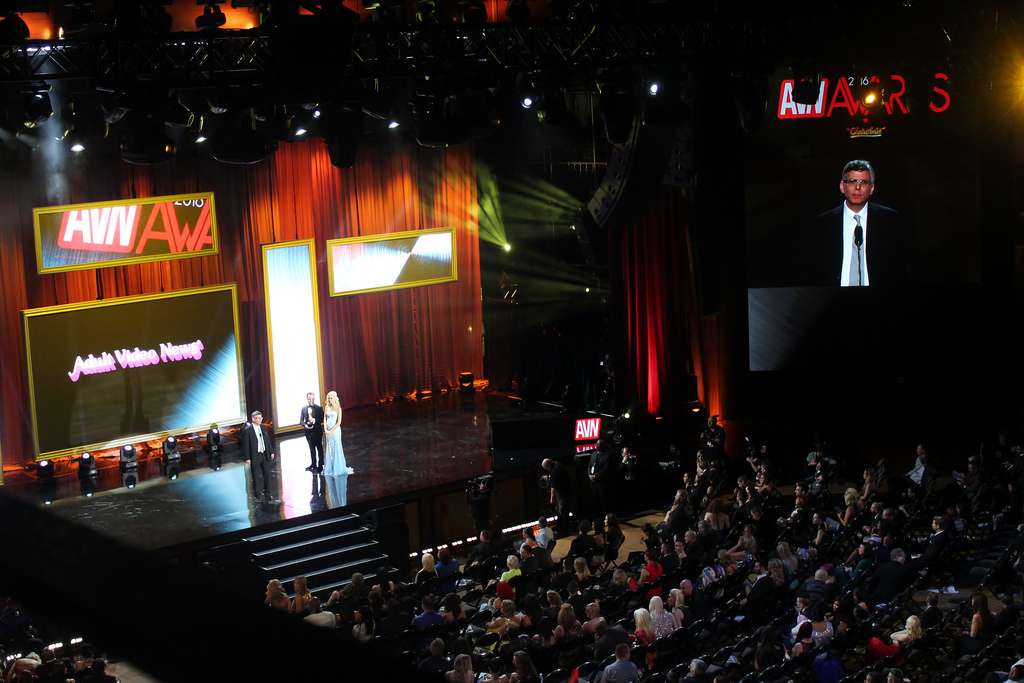 Cambria, a constitutional lawyer who has worked on many major media cases, thinks that "if a Republican becomes president we'll see all the [obscenity-related] laws that we haven't enforced in a long, long time enforced."
During his session, DeWitt noted that since the 1980s, "no Democratic administration has prosecuted obscenity cases except two leftover from Republicans," yet "every Republican administration has."
JAILED FOR SELLING PORN
During an otherwise-lighthearted AVN Awards ceremony January 23, AVN founder Paul Fishbein—accepting the evening's "Visionary Award"—said that he had "friends get put on trial and go to jail just for selling an adult film" a few decades ago.
In many, many respects, the politics surrounding porn have come a long way since then, Fishbein noted. But having "watched for 34 years as the adult industry has taken bullet after bullet," he's not one to be complacent, no matter which political party is in office. Mentioning Homeland Security's summer '15 takedown of escort site Rentboy and recent anti-porn regulations in California, Fishbein warned the industry that "somebody, somewhere, is always trying to find a way to censor speech and prevent you from doing what you're doing."
Some of the feds' recent actions have been wake up calls for those in the adult business who thought Democrats knew better. "For the adult business, it's always been Democrat," says Kim Airs, owner of online boutique GrandOpening.com, who has been selling adult novelties for decades. Homeland Security's raid on Rentboy "caught everyone off guard. It was like, wait a minute, this is supposed to be a sex-friendly administration," Airs says.
Perhaps the point is the adult-entertainment industry should trust no one, or at least no one from the main two political parties. I'm left feeling that the wisest words about the 2016 election came from the youngest porn performer I interviewed, 19-year-old Joseline Kelly. "At this point, I don't really want to vote for anyone because they're all kind of scary right now," says Kelly. "You can't really trust any of them, they're all doing weird shit, you know? If I vote I'm just going to feel guilty … so I'd just rather not."