Arrogance of the Political Class is Endless
Most 2016 presidential candidates want big government their way.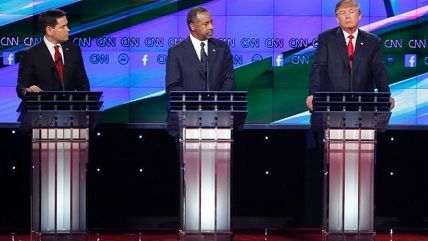 After the Iowa caucus results, it looks like Hillary Clinton vs. Marco Rubio in November!
They lead the betting at ElectionBettingOdds.com.
This scares me. Neither candidate shows any interest in limited government. They scoff at anyone who suggests that their grand schemes do more harm than good. But big government does do more harm than good.
I shouldn't single out Rubio or Clinton, or even Donald Trump. Almost everyone running for office today declares himself a "leader" who "gets things done." There's no modesty, little acknowledgement that so much of what government does is costly attempts to fix problems that government created at home and abroad.
In the book The Fatal Conceit, Frederick Hayek wrote, "The curious task of economics is to demonstrate to men how little they really know about what they imagine they can design."
I wish politicians understood that. Chris Christie clearly doesn't.
He wins my vote for worst presidential candidate this week because of what he's doing to New Jersey's taxpayers in the name of "fixing" Atlantic City.
Six years ago, Christie promised to "reform" and "rebuild" Atlantic City "without government money."
Without government money? Good! It sounds as if the governor respects small government principles and would protect taxpayers.
Nope.
Christie had a few options. Washington Post reporter David Fahrenthold points out that the governor could have done "nothing and let the free market drive out the weaker casinos, hope that the city government and the big casino corporations would innovate their way out of the problem."
That was the small-government option. There would have been upheaval. Some bills wouldn't get paid in full. But heck, Atlantic City "had been rendered fat and inefficient" by casino taxes. It paid "$1 million a year in pensions for long-retired city lifeguards who only ever worked four months a year," wrote Fahrenthold.
Time to cut fat. Instead, Christie partnered with Democrats to embrace a big-government option.
His advisers wanted to take over the entire city. Christie's concession to limited government was that he took over only half—mostly the fun part: all 11 casinos.
Christie put them under the oversight of a state agency. He said those bureaucrats would restore Atlantic City and again vowed, "You have my word that it's going to be done without any government money."
Dream on. The agency used eminent domain to grab properties for development. Bureaucrats spent millions on public art projects, like a statue of a nude woman holding a dead deer. Somehow that didn't inspire tourists to rush to Atlantic City.
The state spent on TV ads and came up with a slogan: "Do AC."
It didn't help. Casinos kept going bankrupt, as did a giant unfinished hotel/casino, the Revel. Christie decided that the state should finish it. He got the legislature to promise $261 million in tax incentives and a $2 million grant. That "no tax money" pledge? Gone. Now taxpayers were "investing."
"We are going to make the type of investment," said Christie, "to make sure that we bring this city to a new renaissance."
The renaissance never came.
The Revel opened, lost money and filed for bankruptcy just one year later. It's now a 47-story hulk with 1,000 empty rooms. Its new owner considered naming it the Tower of Geniuses.
That would be a good name for Obamacare, "temporary" farm subsidies, Alaska's "bridge to nowhere" and lots of other boondoggles designed by politicians.
So is Christie apologetic after spending millions of taxpayer dollars on failure? No, of course not. Recently he was asked whether, in hindsight, he would have done anything differently. "Nothing," Christie replied.
Politicians never apologize. They charge forward. Their solution to failed government investment is more government.
Last week Christie announced that the state would take over all of Atlantic City, claiming, "Greater state involvement makes sense."
He says the new Atlantic City will "be delivered at an affordable cost to the taxpayers."
Sure. And Mexico will pay for a giant wall, stimulus spending will revive the economy and arming Syrian rebels will bring peace.
The arrogance of the political class is endless.