After Focusing on Social Conservatives, Can Cruz Appeal to Rand Paul's Liberty-Minded Voters?
The Iowa caucus winner recently backtracked on justice reform, Snowden.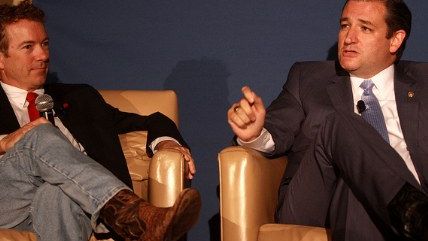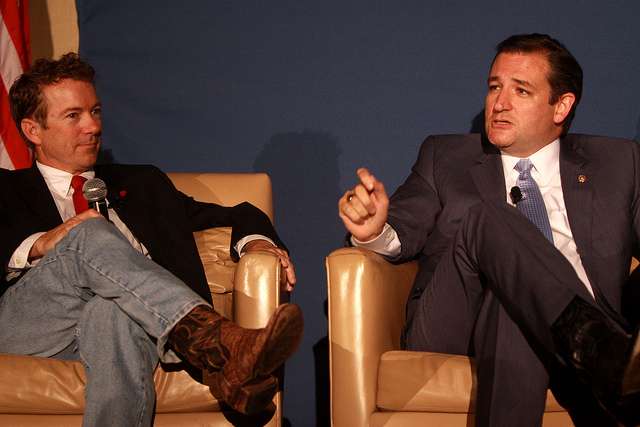 Sen. Ted Cruz has graced Reason's cover in an analysis of his ambitiousness, his background, his rebelliousness, and the extent that there's a genuine libertarian streak to his positions and behavior. It's worth taking a look at where Cruz stands now on these matters, not just because he won the Iowa caucuses, but with the announcement today that Sen. Rand Paul is suspending his presidential campaign. When reporting Paul's campaign ending, the Wall Street Journal wonders in its lede whether Paul's voters will be breaking Cruz's way.
Paul and Cruz have not exactly been total allies, but they have worked together frequently. In the most recent debate, when Paul dinged Cruz for not being at the Senate to vote on Paul's "Audit the Fed" bill, Cruz responded that he supported it and would be more than happy to sign it when he was president. Cruz also showed up to support Paul's filibuster to stop the renewal of the part of the PATRIOT Act that authorized mass domestic surveillance (though Cruz differed from Paul by supporting the USA Freedom Act compromise, which Paul opposed because it didn't go far enough). Paul also showed up to assist Cruz's anti-Obamacare filibuster.
Recall that a few years ago, Cruz and Paul were lumped together as "Wacko Birds" by Sen. John McCain for not being good establishment conservatives and doing what they were told. But Cruz and Paul are not exactly "wacko birds" of a feather. Nick Gillespie recently decried "Cruz's Laughable Libertarian Pose" over at The Daily Beast, criticizing Cruz's militaristic foreign policy and anti-immigrant animus (and big spending promises). With Rand Paul perceived as more compromising to conservatives and less libertarian than his father, what does that make Cruz in the eyes of libertarian Republican voters?
Here are a few things libertarian Republicans may be chewing over about Cruz when considering where their vote might go (if it goes anywhere at all—staying home is an option, too):
That's a lot to consider. Establishment conservatives like McCain may see all these "tea party" insurgents the same way, but there are some significant differences between Paul and Cruz as candidates, especially when a libertarian is evaluating what they have to offer.