Obama Warns of Growing Anti-Semitism Around the World, Last Pre-Iowa Caucus GOP Debate Tonight, Ammon Bundy Tells Refuge Occupiers to Go Home: A.M. Links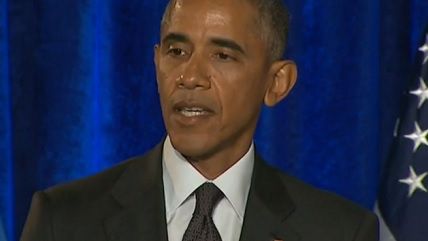 YouTube

President Obama warned of rising anti-Semitism in the United States and around the world in remarks he made yesterday at the Israeli Embassy on the occassion of Holocaust Remembrance Day.

The last Republican presidential primary debate before the Iowa caucus will be held on Fox News tonight. Something something Donald Trump, something something Ted Cruz.
The Pentagon is considering "military options" to deal with the rise of the Islamic State in Libya.
Militia leader Ammon Bundy has asked protesters who were still occupying a wildlife refuge center in Oregon to go home, as the FBI made at least three more arrests.
Police in Chicago deliberately sabotage their recording devices.
The widow of an Illinois police officer who commited suicide in a way that made it look like a homicide after he defrauded charities has been charged.
The president of a marketing and communications agency is upset her 30 mile UberSUV ride from Virginia to the Reagan National Airport cost her a lot more than what her neighbors told her an UberX ride would've cost.
New at Reason.com: