Insane: Detroit Public Schools Spend as Much on Debt Service as Salaries & Benefits
One more reason why school choice is coming, whether traditional school districts like it or not.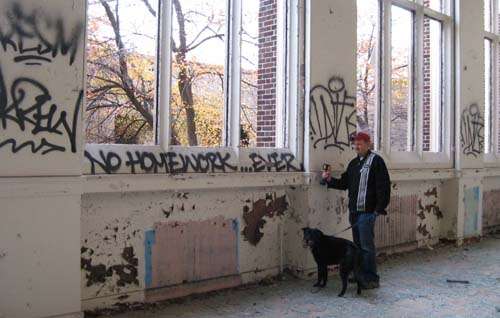 This week is National School Choice Week, and Reason will be highlighting the ways in which expanding K-12 educational opportunities for children and parents can make schools better and more innovative. And we'll be documenting various ways in which traditional school districts are imploding despite spending more and more money on a per-pupil basis.
Which brings us to Detroit, a city whose schools are facing sick-outs by teachers complaining about many things, including the shoddy quality of physical plant (this, despite spending something like $14,400 on average per pupil).
Earlier this month, The Detroit News reported that starting in February, the district will be spending equal amounts on debt service and salary and benefits:

That is simply amazing and points to long-term financial mismanagement that is almost certainly too far gone to ever rectify. From the News' account:
Financial analysts say the skyrocketing debt payments owed to the state expose an unprecedented amount of money being diverted from classroom instruction to pay off past debts, even as the city school system eliminates 100 central office jobs this month.

The Detroit district's payments on old debts — some dating back a decade or longer —amount to $3,019 of the $7,296 per student grant the district will receive from the state this school year, a Detroit News analysis of public records shows.

"That's $3,000 that isn't available for each kid this year, and it pays for the education of kids 10 to 15 years ago," said Craig Thiel, senior research associate at the Citizens Research Council of Michigan. "They're as close as they've ever been to being insolvent, where you've got multiple bills that are owed to the state that have gone unpaid."
Needless to say, the state is the only available lender to the district and the money it's paying on debt interest only means other bills aren't getting paid:
To avoid a default, the district has made the debt payments before honoring bills for vendors and employee pensions. DPS owes the state's school employee pension system $114 million — a bill that's expected to top $157 million by July.

The district has another $40 million in vendor bills that are more than 90 days past due, Demetriou said.
Unsurprisingly, the district's administrative costs are the highest in Michigan—the sort of management that creates such a situation doesn't come cheap.
Going forward, Detroit (and other districts with similar if not as pressing debt-service and related costs) would benefit from switching to "student-based budgeting," where federal, state, and local dollars follow the individual student to whatever school he or she enrolls in. Such a plan gives extra dollars for learning disabilities, English as a second language, and other situations that call for added instruction. In its most committed form, student-based budgeting (sometimes called "backpack funding") creates a system by which individual schools compete for student dollars and, more importantly, are responsible for all the administrative costs of their own schools. It effectively removes "the district" as the focus of delivering education. That's a good thing, as large districts are rarely if ever paragons of managerial efficiency and competency.
The history of simply plowing more money into education has failed to raise test scores or equalize outcomes among low-income and higher-income students and there's no reason to believe anything short of creating a different power dynamic—one that puts power in the hands of students—will change any of that, including insane and unsustainable district finances.
For more on National School Choice Week, go here.
Watch "Backpack Funding: The Big School Reform That Fits in a Tiny Package":