New Jersey Kids Finally Have the Right to Shovel Snow
They didn't before.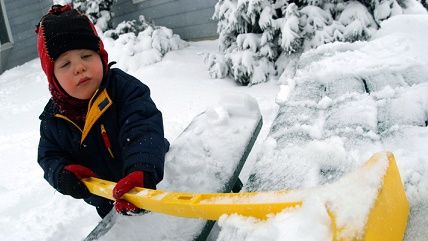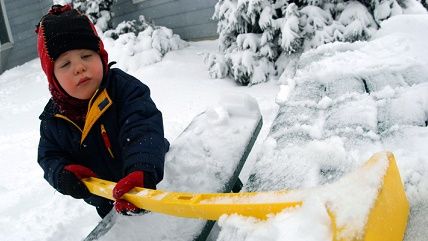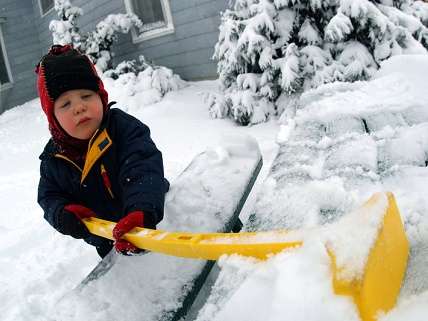 Fast on the heels of the Federal legislation allowing kids the right to walk to school comes this new ordinance in New Jersey: The right of kids to shovel.
As NJ.com reports:
Legislation sponsored by Senator Mike Doherty (R-23) ensuring that kids have the right to offer snow shoveling services before storms without municipal approval was signed into law by Governor Chris Christie.
The law was prompted by the sorry story just about a year ago, when two Bound Brook, NJ, high school students tried to make some money shoveling their neighbors' driveways, only to find out this was against the law:
School was closed for the blizzard that wasn't, but there was still enough snow on the ground that two high school seniors thought they could make a few extra bucks.

In the process, Matt Molinari and Eric Schnepf, both 18, also learned a valuable lesson about one of the costs of doing business: government regulations.

The two friends were canvasing a neighborhood near this borough's border with Bridgewater early Monday evening, handing out fliers promoting their service, when they were pulled over by police and told to stop.

The story was shared on a popular Bound Brook Facebook group by a resident who saw Schnepf being questioned by police after coming to his door.
The deal was simply this: Bound Brook had a law against unlicensed solicitors and peddlers.
In the end, the kids weren't arrested and the police brass insisted the intervention was only because the snow made being outside unsafe. What's more:The pair managed to get five jobs by early Tuesday afternoon, earning between $25 to $40 a house.
That's what my kids are charging, too, if anyone's interested. We're in Jackson Heights, Queens. Give a shout!