Sanders, Clinton Spar over Who Owns the Gay Vote
Top LGBT lobbying group announces a very predictable endorsement.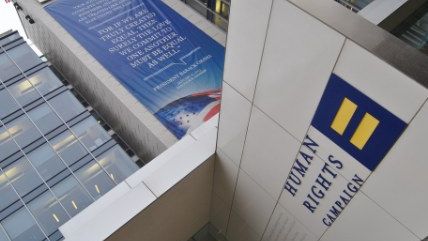 (ordanuhl7 / photo on flickr)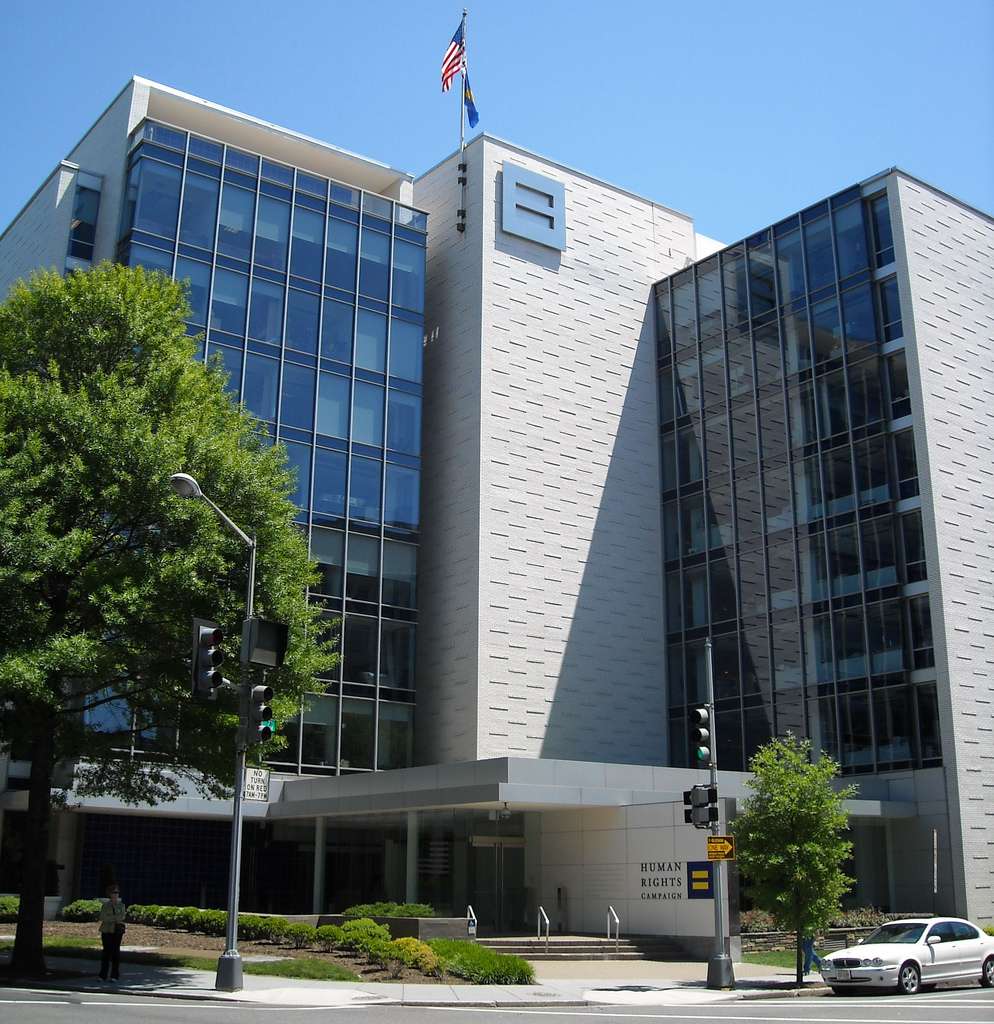 To the extent that the LGBT community has an "establishment," the Human Rights Campaign (HRC) is it. The lobbying organization has been around since the 1980s in D.C. heavily pushing for gay rights legislation. They managed to transform the gay marriage battle into a branding opportunity, getting folks to insert their equal sign logo into social media avatars, though really up until recent times they were actually focused on antidiscrimination and hate crime laws, not marriage recognition.
For politically aware gay Americans, the news yesterday that the HRC endorsed Hillary Clinton for president was a bit of a "dog bites man" story. Of course they did. Her husband was HRC's first endorsement in 1992 and they've endorsed the Democratic frontrunner for president ever since.
But what's different about this endorsement is that it comes as Clinton's poll numbers are taking a hit, and it appears that Sen. Bernie Sanders is actually starting to present a potential primary challenge. In 2008, when HRC endorsed Barack Obama, they waited until June, when Obama had secured the nomination. The timing of endorsing Clinton now, given that she and Sanders share the exact same position on every current LGBT issue, is particularly interesting. And it's all the more interesting that Sanders has a more pro-gay past, voting against "Don't Ask, Don't Tell" and the Defense of Marriage Act (DOMA), both of which were signed into law under President Bill Clinton. Hillary Clinton has been a late-comer to the gay marriage table and has been shamelessly lying about it, trying to convince the gay voters (many of whom know better) that DOMA was an attempt to stave off a constitutional amendment.
Some staff at the HRC are also politically ambitious movers and shakers. One of their recent presidents left in 2012 in order to join Obama's re-election campaign. It is very easy to look at this unanimous support from HRC's board for Clinton and imagine that some of these folks are fantasizing about plum administrative positions or campaign staff roles in their heads.
The Sanders campaign knows this and hit back over HRC's curiously timed endorsement. Via the Washington Blade:
"It's understandable and consistent with the establishment organizations voting for the establishment candidate, but it's an endorsement that cannot possibly be based on the facts and the record," said Sanders campaign spokesperson Michael Briggs.

Touting Sanders as "somebody who's been for gay rights long, long ago" since he was mayor of Burlington, Vt., Briggs said Sanders as a U.S. senator voted against "Don't Ask, Don't Tell" in 1993 and he voted against Defense of Marriage Act in 1996. Briggs also cited Sanders' support in calling on the U.S. Supreme Court to overturn DOMA.

Recalling Sanders support for civil unions in Vermont when it became the first state to enact them in 2000, Briggs said Sanders was "a pioneer on this early version of gay marriage, and has by far the most exemplary record on gay rights of any candidate ever in American history."

Hillary Clinton supported DOMA through her 2000 campaign for a U.S. Senate seat in New York and backed only repealing Section 3 of the law during her first presidential campaign. Both Bill and Hillary Clinton now support marriage equality.

"So who knows what prompted the Human Rights Campaign to do what it does — I have trouble myself figuring why they do some of the things they do over the years — but I think the gay men and lesbians all over the country will know who has been their champion for a long, long time and will consider that as they make up their mind on support for his campaign," Briggs said.
While all three Democratic candidates (don't forget Martin O'Malley!) may share the same current position on every single LGBT issue, recall that Clinton recently put out a lengthy, detailed agenda calling for the passage of all sorts of new laws and regulations; pretty much everything the HRC wants she is willing to push for. That laundry list apparently put her over the edge, though I find it extremely unlikely she wasn't the top choice even without the formal agenda.
It's not just the HRC that the Sanders campaign is dinging as part of the political "establishment." Last night on MSNBC, Sanders called Planned Parenthood, which also endorsed Clinton earlier in the month, part of the "establishment." This didn't set well with Jamil Smith at the New Republic, who calls it an "unforced error" due to his tendency to fall back on an anti-establishment message at the drop of the hat. Clinton's campaign also tweeted its own criticism:
Really Senator Sanders? How can you say that groups like @PPact and @HRC are part of the "establishment" you're taking on? -H

— Hillary Clinton (@HillaryClinton) January 20, 2016
While I don't disagree with the characterization of Sanders' campaign tendencies toward that one-note focus, I'm not sure I'd call this an error or even necessarily bad politicking. I can't speak on behalf of the Democratic voters' attitudes toward Planned Parenthood, but I would point out that obviously they're part of the established political left or else the defense that their services are vital for the health of women across the country would not make any sense.
But I can say with confidence that there's a significant population of LGBT who see the HRC as what Andrew Sullivan once called "a patronage wing of the Democratic party, designed primarily to get its members jobs in future Democratic administrations or with Democrats on the Hill" and they do not like or trust the organization. When Briggs says he has trouble "figuring out why they do some of the things they do over the years," that is a dog whistle directed toward those who perceive the HRC leadership as aspiring political operatives securing their own futures rather than actual LGBT activists and compromising so as not to harm their relationship with the Democratic Party elites.
The timing of the endorsement is itself evidence for the argument. There are two possible reasons for putting out the endorsement now rather than waiting until after the primaries: To assist Clinton in defeating Sanders or to express a lack of confidence in Sanders' ability to defeat the eventual Republican nominee. Given the extremely nebulous, unpredictable state of the Republican race it's hard to accept the latter. A look at poll averages right now showing Clinton vs. various Republican candidates and Sanders vs. various Republican candidates suggests it's all extremely up in the air. Sanders does come out on top in some match-ups.
So that leaves the explanation that the HRC's endorsement is an attempt to boost Clinton against Sanders, and of course that leaves HRC open to criticism that it's supporting the establishment. For not a small number of people in the LGBT left, Sanders' criticism of HRC will not hurt him at all and might actually help him get some primary votes, particularly among older, disaffected gay voters who remember both Clinton's and the HRC's histories.