Microaggression Mania Brought Down Ithaca College's President
Another one bites the dust.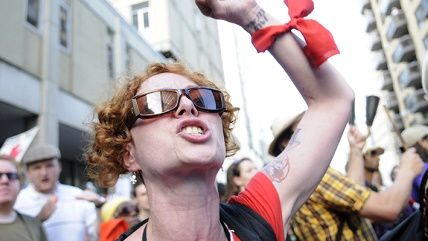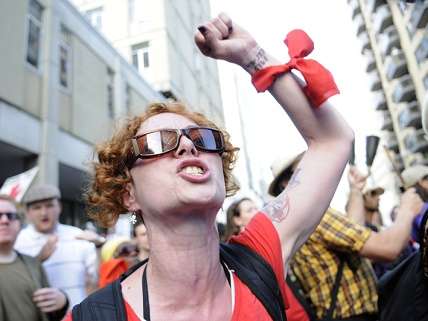 Last week, Ithaca College President Tom Rochon announced he would retire in 2017—appeasing the throngs of students and faculty members calling for his head. Much like the administrators at the University of Missouri, Rochon was accused of improperly handling racist incidents on campus, and offended student-activists wanted him out.
But were they right? I looked into these alleged racist incidents, and I'm wholly unconvinced there's anything to them. As I wrote in a recent Daily Beast column:
Media coverage of Rochon's resignation implies that Ithaca was beset by a series of escalating racist incidents on campus, but in reality, there were just two such grievances. Neither stands up to scrutiny, and neither suggest that Rochon's refusal to intervene was a removable offense.

In October, Ithaca hosted an alumni panel discussion on the topic of improving the college's educational experience for students. One panelist, '09 alum Tatiani Sy, a black woman, described herself as possessing a "savage hunger." Another panelist, '76 alum Christopher Burch—an older white man—praised Sy's comment and then began referring to her as "the savage."

It's clear from video footage of the exchange that Burch was not using the word disparagingly: in his mind, he had given her a complimentary nickname. This was remarkably poor judgment on his part, to be sure, and after he realized his word choice had been interpreted maliciously, he profusely apologized.

Far from failing to address the non-issue, Rochon released a statement of apology as well…
That's one of the incidents. The other involved a "Preps and Crooks" theme party hosted by a fraternity: the dress code for the "crooks" was racially insensitive, according to some. (Yes, offensive costumes and parties continues to be a primary animating issue among student protesters.) I fail to see what the college's leadership is supposed to do about problematic parties, but Ithaca's vice president did indeed condemn the "destructive impact" of the Preps and Crooks event. Alas, this did not satisfy the students.
What I wrote about the resignations at the University of Missouri seems to apply at Ithaca as well:
This controversy, as with the current upheaval at Yale, suggests aggrieved students most desperately want administrators to acknowledge their pain and tell them they have a right to live free of emotional turmoil. But no competent administrator can provide them with this false sense of security, since the proper role of a university education is to help students overcome (rather than sidestep) challenges. …

I would be disheartened, but not at all surprised, to see more professors and administrators driven from campus for the crime of failing to erect suitable safe spaces.
Related: "Do College Students Hate Free Speech? Let's Ask Them."