Lawsuit Over Wisconsin Ban on Selling Homemade Cookies
Selling homemade baked goods can lead to six months in jail and a $1,000 fine.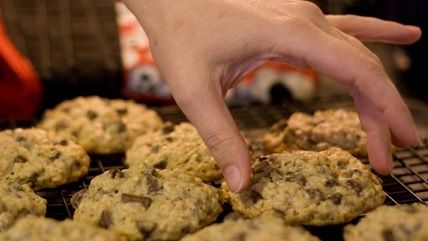 Sell a cookie, go to jail.
As preposterous as it may sound, in Wisconsin you can go to jail and face hefty fines for selling homemade baked goods.
Wisconsin is one of only two states to ban entrepreneurs from selling cookies, muffins and breads simply because they are made in a home kitchen.
"That means that even if you sell one cookie at a farmers market, to your neighbor, somewhere in your community, you can go to jail for up to six months or even be fined up to $1,000. That's not only unfair, it's unconstitutional," attorney Erica Smith told Wisconsin Watchdog Wednesday on the Vicki McKenna Show, on NewsTalk 1310 WIBA.
Smith is with the Institute for Justice, a nonprofit law firm that "fights against unreasonable government restrictions on individuals' economic liberty," according to the Virginia organization's website.
The attorney represents three Wisconsin farmers who on Wednesday filed a lawsuit against the state Department of Agriculture, Trade, and Consumer Protection. The complaint seeks to strike down the home-baked goods ban and allow home bakers to sell directly to their friends, neighbors and other consumers.
A bipartisan bill languishing in the Legislature would do just that, if it would ever be allowed to come up for a vote.
The legislation would allow up to $7,500 in annual homemade baked goods sales. It was first introduced more than two years ago, passing in the Senate before stalling in the Assembly.
Smith said Assembly Speaker Robin Vos, R-Rochester, has refused to allow the "cookie bill" to hit the House floor.
"That could very well be because he owns his own commercial food business," the attorney said.
Vos owns Rojos Popcorn, a popcorn packaging company in Burlington.
A spokeswoman for Vos did not respond to an email seeking comment.
The commercial food industry in Wisconsin asserts lifting the ban could hurt small, licensed businesses, giving home-based entrepreneurs an unfair advantage.
"If several people in a certain market or particular community are doing that, they're eating away at a local baker that's been there for 100 years and taking away his livelihood. How is that fair?" Dave Schmidt, executive director of the Wisconsin Bakers Association told Wisconsin Public Radio.
But home bakers like Lisa Kivirist, a Green County farmer, say they are just trying to provide a little extra income for their families.
"The state's home-baked-good ban hurts farmers, homemakers and others who just want to help support their family by selling simple goods from their home oven," said Kivirist, one of the plaintiffs in the lawsuit. "Not to mention that the ban prevents customers from buying the fresh and local foods of their choice."
Kivirist joined her fellow plaintiffs and others at a press event at the Capitol on Wednesday to talk about the homemade baked goods ban.
Current law requires the use of commercial kitchens for those in the baking business, big or small. Outfitting a commercial kitchen can run as high as $80,000, according to the lawsuit. Renting space can top $1,000 a month, and commercial kitchens are hard to come by in rural Wisconsin.
There are multiple exemptions in the current law, allowing small producers of honey, popcorn, jelly, syrup, and more to sell homemade goods. Nonprofit groups such as churches and other charities may sell homemade goods up to 12 times a year. But individuals hawking the same baked goods could go to jail.
Smith said she knows of no one who has been sentenced to jail time or fined for violating the ban, but some sellers have been told to stop.
"One of our clients was successfully selling at farmers markets and she was selling out her goods. When she found out about this law, she had no choice but to stop. She couldn't risk these fines or possibly going to jail," Smith said.