You Might As Well Watch the NFL Playoffs. You're Paying for Them.
The NFL's real "12th man" is the taxpayer.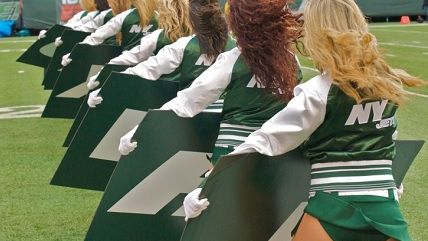 After a crazy NFL Wild Card weekend, in which the Cincinnati Bengals managed to snatch a loss from the jaws of victory and the Minnesota Vikings kicker blew a chance at an easy game-winning field goal, Americans are ready for another round of playoff football. Fans should tune in this weekend, as they are paying for the NFL whether they watch the games or not.
NFL owners are professionals at convincing politicians to fund their stadiums with taxpayer dollars through the use of tax-free municipal bonds. Though these financing tools were originally created by Congress to help fund roads and schools, they are now used to support a league that is worth $45 billion.
To show the varying ways that NFL owners shift the costs of new stadiums to local taxpayers, here are four examples from teams that will play in this weekend's divisional round: the Denver Broncos, Arizona Cardinals, New England Patriots, and Carolina Panthers.
Denver Broncos
The Denver Broncos play at Sports Authority Field at Mile High Stadium. Taxpayers took on a $300 million share of the $400 million cost of the stadium when construction began in 2002. One of the ways this public financing was paid for was through a 0.1 percent sales tax that was applied to taxpayers in six Colorado counties until 2012.
Taxpayers funded the majority of the stadium, but they are forced to split the $6 million annual profits from naming rights 50-50 with the Broncos. This is still better than the situation faced by Pittsburgh residents. The Broncos are playing the Steelers this weekend. The Steelers keep all of their $2.9 million a year in naming rights for Heinz Field, even though the public covered 61 percent of the cost.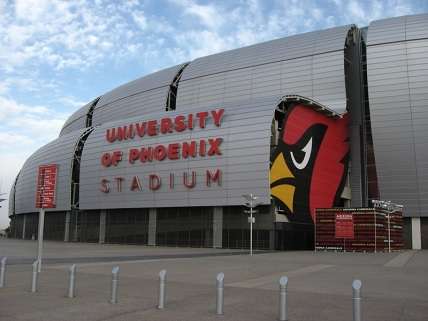 Arizona Cardinals
Since 2006, the Cardinals have played at the University of Phoenix Stadium in Glendale, Arizona. Though Glendale only has 240,000 residents, state and local taxpayers picked up $312 million of the stadium's $455 million cost. More than 40 percent of the city's debt comes from its sports complexes.
One of the ways the public bonds were paid back was through a 3.25 percent tax on rental cars. This is no longer an option because an Arizona judge struck down the tax in June 2014 (the state's constitution requires vehicle taxes to be used on highway-related purposes).
This annual loss of $12 million equals about a third of the yearly revenue used to cover stadium-related debt and costs. Due to another ruling in September 2015, the state also has to refund about $160 million in rental car taxes that it wrongfully collected.
It looks like local taxpayers will be paying off their team's current stadium for many more seasons, possibly even after the Cardinals move to a new venue. This problem is not limited to Glendale. On Saturday the Panthers play the Seahawks, and Seattle taxpayers just paid off the public debt from their team's previous stadium—15 years after it was demolished.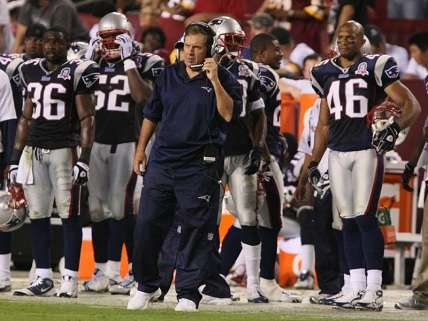 New England Patriots
The hated New England Patriots treat local taxpayers surprisingly well. Patriots owner Robert Kraft arranged 100 percent private funding for the construction and maintenance of Gillette Stadium, which is located outside Boston.
Gillette Stadium and MetLife Stadium (shared by the New York Jets and Giants) are the only two NFL stadiums that were built and renovated without public funds. But even here there are still hidden costs for taxpayers.
Most public stadium cost figures are underestimated since other costs, such as maintenance expenses, capital improvements, municipal services, and the abatement of local property taxes, are not taken into account. Massachusetts agreed to spend $72 million on updating the infrastructure surrounding Gillette Stadium, and property taxes are not levied on the stadium.
Taking all these kinds of added expenses into account, the Kansas City Chiefs, the Patriots' opposition this weekend, actually received more in public funds for Arrowhead Stadium than it cost to build.
Carolina Panthers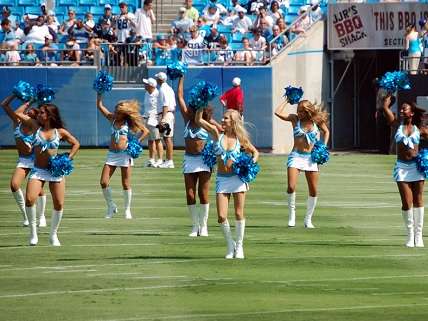 The Panthers' home field since 1996, Bank of America Stadium in Charlotte, North Carolina, was billed as "privately financed," even though the city provided $40 million for land, and the county provided $10 million for building relocation.
In April 2013 the Charlotte City Council voted unanimously to give the Panthers $87.5 million to upgrade their stadium and renovate luxury suites. In exchange for this handout, the Panthers promised to stay in Charlotte for six more years. One of the reasons for the package's unanimous approval was a fear that the team would pack up and move to the Los Angeles area. This concern was overstated, as Carolina offers an attractive market for an NFL team. The Panthers took in $325 million in revenue and $78 million in operating income last season.
The specter of a hometown NFL team moving to LA is a common occurrence. This week, NFL owners voted on allowing a NFL team (or teams) to move to Los Angeles next season. The St. Louis Rams are now the LA Rams, and the option is open for the San Diego Charges or Oakland Raiders to join them.
Even though all three teams are profitable, their owners are upset with the offers they received to stay put. Missouri offered to pay for 40 percent of a new $1.1 billion riverfront stadium for the Rams. In response to this generous offer, Rams owner Stanley Kroenke said it would lead to "financial ruin."
St. Louis taxpayers should be glad that they've rid themselves of the burden of keeping their "first tier promise" to the ungrateful tenants of the Edward Jones Dome, the Rams' previous home stadium. Because of a lease agreement signed over two decades ago, the city was responsible for paying for upgrades to keep Edward Jones Dome in the top 25 percent of NFL stadiums.
The NFL does not need public funding to survive, and the argument that publicly funded stadiums "pay for themselves" is an economic fantasy (Check out this ReasonTV video for more on the empty promise of stadium subsidies.)
Even in the face of substantial public costs that are not covered by the few associated tourism benefits, no mayor or governor who wants to win reelection would let a team leave. Crazed fans refuse to consider the costs (if you want to watch an irate fan screaming at a mayor who questioned if a stadium subsidy was worth the cost, check out this video) and public officials are also embroiled in bidding wars for teams whose owners are all too happy to take advantage of generous taxpayer subsidies.
For these reasons, and because the abuse of public funds has gotten so out of hand, a federal solution is necessary.
In his 2016 budget, President Obama attempted to take away one of the main reasons that it is so common to use public funds to support private sports profits. He called for an end to the use of tax-exempt government bonds for stadium financing.
If President Obama's proposal is put into law, "bonds to finance professional sports facilities would be taxable private activity bonds if more than 10 percent of the facility is used for private business use." This means that NFL owners would lose their access to public, tax-free funds.
The tax reform efforts in 1986 also tried to limit this abuse of taxpayer funds by limiting to 10 percent the share of a bond's debt that could be repaid with ticket or concession sales. However, to get around this limitation states and localities resorted to rental car taxes, hotel taxes, or sales tax increases on their residents.
Though this limit was intended to stop the use of public funds to support private gains, it ended up forcing general taxpayers instead of NFL owners to pay off public loans. To put it another way, by law, at least 90 percent of these bonds have to be paid back by taxpayers instead of stadium-related revenue.
The NFL is the most valuable powerful sports league in the world, and politicians from both parties should be able to end this misuse of public funds. Republicans decry corporate welfare and public works projects (at least on the campaign trail), and Democrats should have a hard time if they choose to defend a funding scheme that enriches billionaire owners at the expense of ordinary taxpayers.
Until something is done to limit this taxpayer abuse, the road to the Super Bowl will continue to be paved in subsidies.