Iran Releases US Sailors Who Accidentally Entered Iranian Waters
Said an investigation confirmed it was only an error.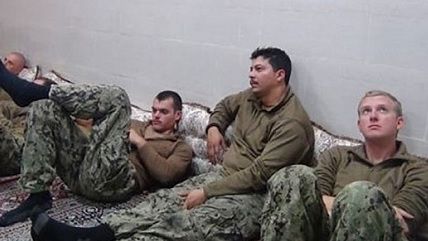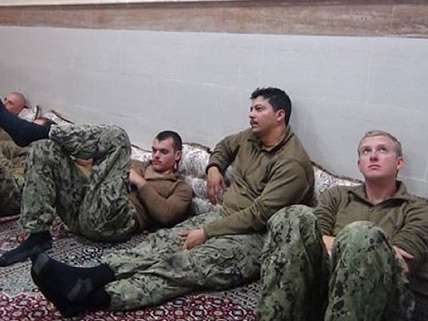 Yesterday, ten U.S. sailors from two Navy patrol boats were seized (rescued, according to Iran) by Iranian authorities after the boats entered Iranian waters near Farsi Island in the Persian Gulf, bringing the warboners out.
Secretary of State John Kerry told the press last night that he spoke to Iran's foreign minister, with whom, along with ministers from Russia, the United Kingdom, France, Germany, and China, he negotiated the Iran nuclear deal over the last several years. Kerry said that Iran's foreign minister promised him a speedy return of the sailors.
That may have caused a bit of a political dilemma in Iran, because the sailors and their boats were taken by the Revolutionary Guard's navy, not the military. The Revolutionary Guard is part of Iran's conservative ruling class, and it opposed the nuclear deal the civilian government negotiated. So last night, Revolutionary Guard Rear Admiral Ali Fadavi called reports of a speedy release "speculation," saying an investigation would have to take place, and claiming Iran's foreign minister demanded an apology from Kerry.
But a few hours later the investigation was over. After initially saying the Guard had confiscated GPS systems from the sailors that would show they were spying, Fadavi eventually stated authorities had confirmed the boats entered Iran's waters accidentally due to mechanical navigational error, and that an order would be issued releasing the sailors. The sailors, and their boats, which reportedly did not contain any sensitive technologies, were released to the U.S. earlier this morning. The Pentagon said it would conduct its own investigation to figure out how the boats made it into Iranian waters. The U.S. does conduct surveillance operations on Iran regularly in the Persian Gulf, and Iran also conducts surveillance operations of those surveillance operations.
The incident is not expected to affect implementation of the nuclear deal, which was supposed to start as early as later this week. Critics of the Obama administration took the opportunity to use the incident, which appears to have de-escalated thanks to efforts on both sides, as proof the Obama administration was "weak."
But, as The Telegraph's chief foreign correspondent pointed out, Iran's actions this time around are markedly different from its recent past. In 2007, Iran detained 15 British sailors it said had entered its territory, holding them for 12 days and using their release as propaganda. The change may not be an isolated incident. When protesters attacked the Saudi embassy in Tehran, Iranian authorities condemned the attack and said they were launching a full investigation. The British didn't get that kind of response when their mission was targeted in 2011.