CancerMoonShot2020: "Perhaps the most important scientific initiative undertaken in human history"
New collaboration announced to use precision medicine techniques to cure cancer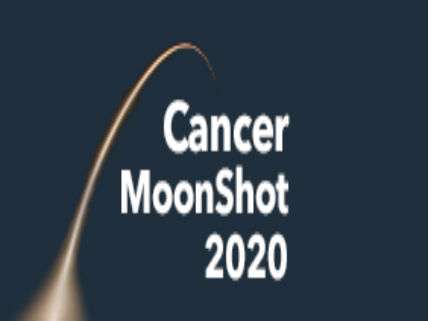 Large pharma and biotech firms, a major health insurance company, a Fortune 50 company*, academic researchers and community oncologists are all teaming up to launch the CancerMoonShot2020 initiative. In an email, Dr. Robert Goldberg, the co-founder and vice president of the Center for Medicine in the Public Interest declares that it is "perhaps the most important scientific initiative undertaken in human history." Wow.
The new coalition seeks to harness rapidly evolving precision medicine techniques to diagnose, treat, and manage 20 different tumor types. Lots of compounds have been developed that can attack tumors, but using them one at time allows tumors to evolve so that they no longer remain effective in a patient and the cancer proliferates. Hitting tumors with various combinations of compounds could control and even destroy them by preventing this kind of evolutionary escape. The press release from the new National Immunotherapy Coalition notes:
The QUILT (QUantitative Integrative Lifelong Trial) program is designed to harness and orchestrate all the elements of the immune system (including dendritic cell, T cell and NK cell therapies) by testing novel combinations of vaccines, cell-based immunotherapy, metronomic chemotherapy, low dose radiotherapy and immunomodulators—including check point inhibitors– in patients who have undergone next generation whole genome, transcriptome and quantitative proteomic analysis, with the goal of achieving durable, long-lasting remission for patients with cancer. …

The mission of the Cancer MoonShot 2020 Program is to rapidly enroll and complete randomized Phase 2 clinical trials to validate the potential of panomic (whole genome, transcriptome and proteomic) analyses and to evaluate novel combination immunotherapies as the next generation standard of care. This coalition combines the efforts not only of major academic centers but also the community oncologists, enabling accelerated recruitment of patients to multiple Phase II trials. Utilizing a secure cloud-based infrastructure to integrate and enable the participation of both major academic and community oncologists at a national scale, the goal is to complete randomized clinical trials in patients with cancer at all stages of disease, across up to 20 tumor types in 20,000 patients within the next 36 months. By comparing standards of care to the next paradigm of less toxic immunotherapy combination therapy, the findings of these in the randomized QUILT Program will inform the design of Phase 3 registration trials, with the goal of bringing transformative advances in combination immunotherapies to cancer patients by 2020.
Here's hoping that Goldberg is even half right.
*My wife is a financial advisor with Merrill Lynch, a subsidiary of the Bank of America which is participating in the new coalition. I hope that we won't have need of these new therapies any time soon.