Melissa Click Is the Scowling Face of Campus Repression, But Shouldn't Be Fired
She should be educated, not disciplined.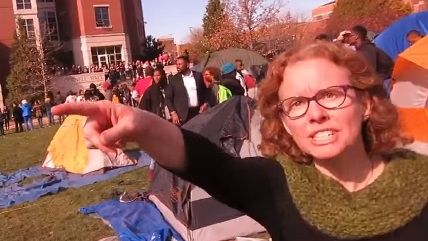 I recently named Mizzou communications professor Melissa Click the #1 most loathsome campus censor of 2015. Click, who until recently held an honorary position in the schools' journalism school, tried to physically prevent a student-journalist from covering the protests on campus.
Now Missouri Republicans have called on the university to fire Click. According to The Columbia Missourian:
Eighteen Republican senators signed the letter demanding UM dismiss Basler and Click. …

Republican Reps. Caleb Jones, Caleb Rowden and Chuck Basye, all of Boone County, were among those who signed the House letter. Sen. Kurt Schaefer, R-Columbia, signed the Senate letter.

"At every turn, Click's actions were unacceptable and inflammatory in a situation where the students and the public needed and expected university employees to serve professionally and as a calming influence," Jones said in a statement accompanying the letter.

"In my opinion, it's clear she violated this reporter's constitutional rights," Jones added in an interview Monday afternoon. "It's also clear that she assaulted that reporter. The state's land grant institution should not be employing people like that."
I understand where these calls are coming from, but if it were up to me, I would not end Click's employment with the university. While her transgressions were grave—from a free speech standpoint—they were not gravely criminal. Her victim was not physically harmed. And though Click's behavior was inappropriate, firing her for mere inappropriate behavior might actually send the wrong message about free expression: namely, that people who act out imperfectly can and should be subject to discipline.
What's more, Click is clearly a person in need of some educating about the role of the press in a free society. A university campus is actually the best place for her to learn that lesson.