Guantanamo Prisoner and Author Loses Court Challenge
Mohamedou Ould Slahi's request for federal court to intervene in confinement conditions at Guantanamo denied.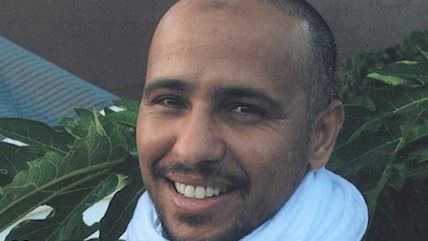 Mohamedou Ould Slahi, a Mauritanian who has been held prisoner by the United States since 2001, has recently been denied his request to have a federal court intervene on his behalf regarding the conditions in which he is being held prisoner. Slahi has been kept in a special detention camp, separated by most other prisoners at Guantanamo, and has never been charged with a crime.
Stars and Stripes reports:
U.S. District Court Judge Royce Lamberth wrote that he doesn't have the authority to order the Obama administration to set a date for a parole board hearing for Mohamedou Ould Slahi, who turns 45 Monday.
Just 18 of Guantanamo's current 107 captives have gone before the Periodic Review Board since President Barack Obama created it in March 2011. Two more captives have hearing dates set for next month.
The judge also said that he had no authority to order the U.S. military to return possessions Slahi was once allowed to keep in a cell — including family photographs and gifts from prison staff, including a non-networked laptop computer and books. "The Due Process Clause of the Fifth Amendment does not apply to Guantanamo detainees," Lamberth wrote.
Slahi did win an unlawful-detention suit against the U.S. government in 2010 with Judge James Robertson ordering him to be released. This ruling was overturned on appeal and returned to the federal court. Five years later, Slahi is still awaiting his rehearing.
The detainee made headlines earlier this year when his book, Guantánamo Diary, was published with the help of his lawyers. It is the first account written and published by a still-imprisoned Guantanamo inmate. Slahi finished writing the book in 2005, but it took six years and a team of lawyers to obtain approval for publication. To secure the U.S. government's permission to publish the book, more than 2,500 redactions were added to the manuscript, which remain blacked out throughout the book's text. The book debuted at no. 14 on the New York Times bestseller list.
Reason TV spoke with one of Slahi's representatives, Hina Shamsi, a lawyer for the American Civil Liberties Union. Shamsi sat down with Reason TV's Anthony L. Fisher to discuss the book, her client, and the moral and legal pitfalls of "enhanced interrogation techniques" and indefinite detention.