Obama Says We're Hitting ISIS Hard, Trump Is So Totally Healthy, It's Amazing, First Freddie Gray Trial Concludes: P.M. Links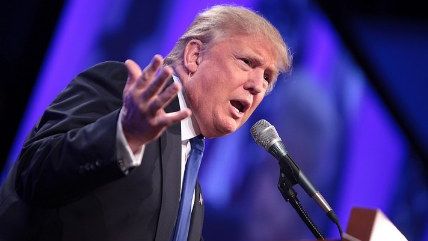 (Gage Skidmore / photo on flickr)
Credit: Gage Skidmore / photo on flickr

President Barack Obama today said the United States and its allies are hitting ISIS "harder than ever" and moving forward with their strategies.

Donald Trump has a letter from his doctor declaring that he'd be the "healthiest individual ever elected to the presidency."
The trial of the first (of six) police officers charged for a role in the death of Freddie Gray in Baltimore concluded today.
It's the third anniversary of the Sandy Hook Elementary School massacre, which means more calls for gun control.
The Supreme Court ruled 6-3 today that federal arbitration regulations trump California's laws, meaning lawyers can't file a class-action lawsuit over DirecTV termination fees.
Also, the Supreme Court blocked an Alabama court from denying the parental rights of a lesbian woman who was granted adoption in Georgia of her ex-partner's children.
A Vox contributor wants to know why humans don't do more to protect mother nature from … um … itself.
New at Reason.com:
Follow us on Facebook and Twitter, and don't forget to sign up for Reason's daily updates for more content.