Dear GOP: Dump Trump
Donald Trump is the closest thing to a fascist in America in generations.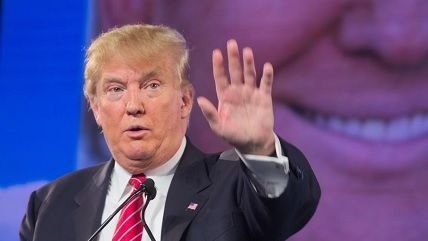 Dear GOP: Dump Trump
When it first began, Donald Trump's presidential campaign seemed like a joke. It is fast becoming a menace: He is the closest thing the U.S. has seen to a genuine fascist in generations.
True, a decade ago posters depicting George W. Bush as Hitler were popular among the liberal proletariat, and essays such as Naomi Wolf's "Fascist America in 10 Easy Steps" were popular among the liberal intelligentsia. But those silly, supercilious comparisons cheapened the coin of fascism; they were little more than primal-scream therapy for the petulant left. As soon as a Democrat reclaimed the Oval Office, liberals regained their love affair with unbridled power.
Trump is something else again—and it is remarkable how many of the touchstones of fascism the Trump phenomenon embraces.
It is, to begin with, a cult of personality built around the Strong Man. When asked how he will achieve what he promises, Trump's primary answer is that, well, he is Donald Trump: a "really smart person" and a "great manager" who "beats China all the time"; who has "millions of followers"; who will flat-out dictate oil prices to OPEC ("we have nobody in Washington that sits back and said, 'you're not going to raise that f***ing price' "); who "will be the greatest jobs president God ever created" because he is not a "loser" or a "moron" like the rest of you; etc. etc. Trump does not have plans; he is the plan.
The Trump movement has no coherent political philosophy behind it, unlike Ronald Reagan's ascent. Trump says Obamacare is a disaster that must be repealed—but thinks socialized medicine works "incredibly well"; he likes free trade in theory, but detests it in practice. And so on. Take Reagan away and you still would have had a thriving conservative movement that could trace its lineage through Barry Goldwater and National Review back to Russell Kirk and Edmund Burke. Take Trump away and you have a deracinated rabble.
Others have noted more parallels, but space here is finite, and the foregoing ought to suffice. Trump is a problem—though primarily for the Republican Party, at least for now. The party needs to ensure he does not become everyone's problem—and the only way to do that is to abjure him, totally and utterly. So far party leaders have failed to do so. Some—such as Karl Rove, Rand Paul and Mitt Romney—even have said that they will support the Republican nominee, no matter who it is.
That would be a mistake. Trump is utterly unqualified for public office, and he represents everything the Republican Party ought to stand against. It is time for responsible Republicans to declare that they will have no part of his candidacy and that they will not support it financially, vocally, or electorally.
Yes, that would be a great trial for the party — but it would be a great favor to the country. And it would demonstrate what everyone hopes is true: that members of the GOP are Republicans second, but Americans first.
This column originally appeared at the Richmond Times-Dispatch.