Paris Climate Change Conference
Poor Countries Demand $3.5 Trillion in Climate Finance at Paris Conference
Seventh Dispatch: U.S. reportedly threatens to walk out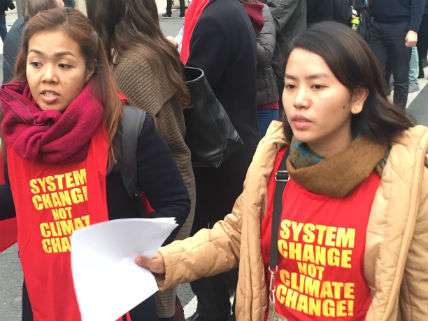 The drama begins. Up until today, the Paris climate conference was pervaded with a highly unusual atmosphere of comity and calm. Not anymore. Late Thursday night the French climate conference presidency issued a final draft text with the goal of having an agreed upon final text by Saturday. It made a lot negotiators and activist hangers-on unhappy. "The text is very, very disturbing. It is totally unacceptable," declared Chee Yoke Ling, director of the radical Third World Network. Tamar Lawrence-Samuel representing Corporate Accountability International stated, "The U.S. government is keeping us from the deal we need to save us from the climate crisis." She blamed the situation on lax campaign finance laws that have enabled fossil fuel companies to buy off the U.S. Congress.
The holdup is money. Poor country governments want rich country governments to make explicit promises about how much and when climate finance is going to be flowing their way. They don't want to count loans, export credits, or private investments – climate finance has got to be public money and it's got to be with no strings attached. As Indian climate negotiator Susheel Kumar explained earlier this week, climate finance is not a donation, it's an entitlement. Poor countries deserve the money as reparations from rich countries that have wrecked the climate. As it happens, in the current draft of the universal climate accord, rich countries promise to "mobilize" $100 billion annually as climate finance for poor countries by 2020. In fact, they also agree that $100 billion is a floor and that poor countries can expect to get increasingly larger amounts between 2020 and 2030. But that is evidently not satisfactory.
The Times (London) is reporting that poor country negotiators have demanded behind closed doors that rich country governments hand over $3.5 trillion in climate finance, or they will refuse to accept the Paris accord. India alone is seeking $2.5 trillion in climate finance. India's total GDP in 2014 was just over $2 trillion. This demand may have been sparked by the fact that U.S. Secretary of State John Kerry apparently threatened to walk out of conference if the accord was written so as make climate finance a legally binding obligation. He pointed out that Congress would not accept such an obligation. "You can take the U.S. out of this. Take the developed world out of this. Remember, the Earth has a problem. What will you do with the problem on your own?," Kerry reportedly said.
The loss and damage provisions in the current text are also causing friction between the developed country governments and developing country governments. Loss and damage deals with those effects of man-made global warming cannot be adapted to and will be irreversible. The U.S. is strongly pushing a stipulation that loss and damage provisions in the accord will "not involve or provide a basis for liability or compensation nor prejudice existing rights under international law." At press conference earlier today, Mary Minette, the Director of Environmental Education and Advocacy in the Evangelical Lutheran Church, rather cluelessly asserted, "With regard to loss and damage, none of these issues is about money; they are about life, livelihoods, culture and justice."
ActionAid International Coordinator Harjeet Singh would beg to differ. He gave away the game later in the afternoon when he said that poor countries and activists "wanted to be silent about liability and compensation" at this conference. He added that "developing countries are not thinking about suing the U.S." Nevertheless, the explicit exclusion of liability and compensation in the loss and damage provisions is "a red line for us." Why? Because "it excludes the right to demand justice." Singh and other activists are also being silent about how much justice might cost in the future.
Today a Bangladeshi spokesman (whose name I unfortunately did not get) for the Most Vulnerable Countries group declared, "Nothing is agreed until finance is agreed in Paris."
As I reported earlier, it's all about the cash.
Note: I am filing daily dispatches from the Paris climate change conference. Final accord it supposed to be triumphantly approved by the negotiators tomorrow (Saturday). I'll keep readers posted.