United Kingdom Bombing ISIS in Syria, RAF Captain 'Absolutely Confident' There Would Be No Civilian Casualties
Cameron says the airstrikes would keep Britain safe.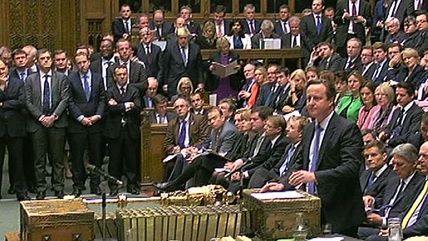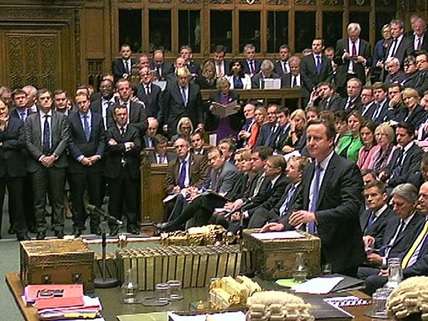 Yesterday, the British Parliament voted 397-223 in favor of bombings against Islamic State in Iraq and Syria (ISIS) positions in Syria after Prime Minister David Cameron argued such airstrikes would keep the country safer from ISIS, and that the UK had to "act now" and should not "sit back and wait for them to attack us." The British ambassador to the United Nations informed the Security Council of the country's decision today, saying it fell within the parameters of Security Council Resolution 2249.
That resolution, passed on November 20 as a response to the November 13 terrorist attacks in Paris that killed 130 people, called on member states to "redouble and coordinate their efforts" to suppress terrorism committed by ISIS, the Al-Nusra Front (an Al-Qaeda affiliate in Syria), other forces "associated with" Al-Qaeda, other terrorist groups that are designated or may become designated as terrorist groups by the UN, and to "eradicate the safe haven they have established over significant parts of Iraq and Syria".
Sixty-six Labour members of parliament joined all but three members of the ruling Conservative party in supporting the airstrikes after a widely covered speech in favor of intervention by Labor's shadow foreign secretary, Hilary Benn ended ten hours of debate in Parliament.
Airstrikes began shortly after the parliamentary vote, which approved airstrikes only against ISIS targets in Syria. The vote follows one last year which approved British airstrikes against ISIS targets in Iraq. Prior to that, in 2013, Parliament voted down proposed airstrikes against Syrian government positions.
The defense minister, Michael Fallon, said British fighter jets hit seven targets among oilfields in eastern Syria, dealing a "severe blow" to ISIS, while Cameron warned his country of a lengthy anti-ISIS campaign. "It is complex and it is difficult what we are asking our pilots to do," Cameron said, "and our thoughts should be with them and their families as they commence this important work."
The British government, like the U.S., insists the Assad government in Syria be replaced by "a new Syrian state including some of those who are fighting it helping on the ground," as Fallon explained today.
Activists in the Syrian city of Raqqa, which serves as the de facto capital of ISIS and which the UK says would not yet be targeted in airstrikes, said they fear civilian casualties from the British campaign, while the Royal Air Force insists there would be no civilian casualties from its operations in Syria. "In over 400 airstrikes that the RAF has carried out in Iraq, we have had absolutely no civilian casualties reported," Captain Richard Davies, who also said he was "absolutely confident" there would be no civilian casualties in Syria, insisted in a BBC interview.