Officials, Obama Consider Whether San Bernardino Attack Was Terrorism, Military Will Increase Chances for Women to Fight in Bad Wars, Trump Continues to Trump: P.M. Links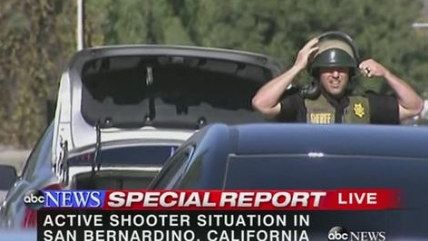 ABC7

Authorities are still investigating why Syed Farook and his wife, Tashfeen Malik, opened fire at a holiday party for county health employees in San Bernardino, California, yesterday, killing 14. The latest evidence is that an attack appears to have been planned in advance. They had rented a vehicle and pipe bombs were found in their home in Redlands. But Farook, an American citizen, was not being watched as a potential terror suspect, though sources now say he may have been communication with others who are suspects.

President Barack Obama acknowledged that terrorism might have been the motivation for the shooting, but nevertheless continues to say that legislators should pass tougher gun control laws. Note that Farook apparently had no criminal background and police say that the guns he owned were purchased legally. There is nothing that suggests that tougher gun control laws would have played any role here.
Defense Secretary Ash Carter announced today that the military will open up all combat jobs to women, as long as they "qualify and meet the standards."
Donald Trump evoked just about every Jewish stereotype possible while trying to stump for votes from Jewish Republicans.
France has shut down three mosques and four prayer rooms it contends are contributing to radicalization.
A federal appeals court has refused to reinstate the tossed-out conviction of former New York Police Officer Gilberto Valle. Valle became known as the "cannibal cop" for being arrested for allegedly plotting to kidnap and eat young women. His defense was that it was all fantasy role-play, and he had actually made no effort to carry out any kidnapping plans. The court panel ruled that they are "loathe to give the government to power to punish us for our thoughts and not our actions."
The Senate voted in favor of defunding Planned Parenthood and ending Obamacare. If it passes the House, it will, of course, be vetoed.
Follow us on Facebook and Twitter, and don't forget to sign up for Reason's daily updates for more content.