ISIS Claims to Behead Russian Spy, Republican Memo Imagines How to Win With Trump, First Freddie Gray Trial Starts: P.M. Links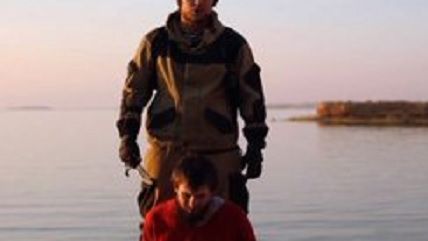 ISIS

A new video from ISIS depicts the radical Islamist group and would-be state beheading someone they claim was a spy sewnt by Russia to join their organization. They said Russian air strikes had strengthened their resolve, and warned they would retaliate against the country. Prime Minister David Cameron, meanwhile, says the United Kingdom must bomb ISIS to keep the British safe.

A private memo from the National Republican Senatorial Committee chair Ward Baker proposes how senate candidates could emulate Donald Trump to win their own races should Trump be the Republican nominee.
A mass shooting occured in San Bernardino today.
The Senate expects to vote to repeal Obamacare again this week.
Opening statements in the trial of William Porter, one of six Baltimore cops charged in relation to the death in police custody of Freddie Gray, happened today.
An activist in Michigan faces five years in prison for handing out jury nullification literature.
New at Reason.com:
How to Help on Housing: Reversing policies that restrict housing is far more effective than grants. By A. Barton Hinkle
The Endangered Species Abct Didn't Save the Alligator, Commerce (and the States) Did: Sometimes you have to hunt species to save them. By Zach Weissmueller