San Antonio Overturns Ban on Food Trucks
Sweet freedom.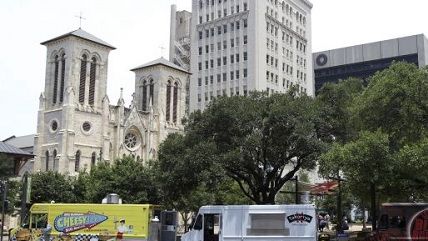 San Antonio on Thursday repealed its ordinance prohibiting food trucks from operating within 300 feet of any restaurant, grocer or convenience store.
Challenged on constitutional grounds, the 33-year-old regulation was ditched in a unanimous council vote after City Attorney Martha Sepeda ruled the city's case was "not defensible."
"Hopefully, San Antonio is beginning to recognize that the government cannot use its power to pick winners and losers in the marketplace," said Arif Panju, an Institute for Justice lawyer representing food truckers.
As reported by Watchdog.org, a group of truck owners sued the city Oct. 6. Plaintiffs were Rafael Lopez, who operates the El Bandera Jalisco food truck; father and son Regino and Bernardo Soriano and their El Bandolero food trucks; and Ricardo Quintanilla, who operates the Tacos el Regio food truck.
"I am glad that our lawsuit forced the city to do the right thing," Quintanilla said Thursday. "I am happy that I can now focus on running my business instead of worrying about getting shut down if a restaurant opens nearby."
The San Antonio repeal means the city "recognizes that entrepreneurs should not need their competitors' permission to operate a business," said Matt Miller, managing attorney of IJ's Texas office in Austin.
Bert Gall, who directs the institute's National Street Vending Initiative, called the council's decision "a big win for street vendors throughout Texas and the rest of the country who face similar unconstitutional restrictions on their right to earn an honest living."
During a brief discussion, Councilman Mike Gallagher said "brick and mortar restaurants that pay taxes" could be disadvantaged by the repeal. In the end, he voted for revocation.
The Metro Health Department said it would "step up enforcement" of food trucks in the evening hours to ensure that licensing laws are followed.
This article originally appeared at Watchdog.org.