House Defies Obama on Refugee Screenings, Clinton Details Anti-ISIS Strategy, Subway's Jared Sentenced to Prison: P.M. Links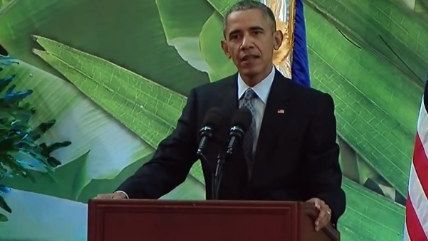 White House

The House has defied a veto threat from President Barack Obama and passed legislation to toughen screenings for Syrian refugees seeking to come to the U.S. Several Democrats crossed party lines to vote yes.

Hillary Clinton called for a worldwide fight against ISIS with America leading the charge, but not with ground troops.
Meanwhile, Donald Trump is floating expanded surveillance for Muslim Americans and declined to rule out such possibilities as special religious identification on ID cards.
In completely non-ISIS-related news, former Subway spokesman Jared Fogle was sentenced to more than 15 years in prison for child porn and sex charges.
A former police officer in Detroit was found guilty of assault and misconduct in the videotaped beating of a driver he stopped for running a stop sign.
Five were killed in two separate attacks by Palestinians in Israel. One victim was an American.
New at Reason:
Follow us on Facebook and Twitter, and don't forget to sign up for Reason's daily updates for more content.