"Frankenfish" Finally Approved for Eating by FDA—Hooray!
It only took 20 years to obtain bureaucratic permission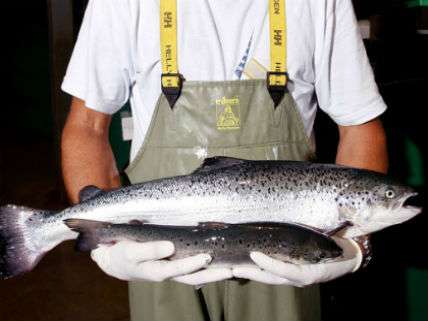 The AquaBounty company applied to the Food and Drug Administration to get approval for its genetically enhanced salmon back in 1995. Its salmon are modified to using a gene from another fish called ocean pouts which enables it to grow much faster using less feed. The company has jumped through all sorts of hoops to make sure that its fish cannot escape and that it is nutritionally identical to regular salmon. Naturally, the opponents of modern biotech foods lied incessantly about its alleged dangers to the environment and people. At long last, the FDA bureaucrats have mustered the courage to follow actual scientific evidence and ruled today:
After an exhaustive and rigorous scientific review, FDA has arrived at the decision that AquAdvantage salmon is as safe to eat as any non-genetically engineered (GE) Atlantic salmon, and also as nutritious.

The FDA scientists rigorously evaluated extensive data submitted by the manufacturer, AquaBounty Technologies, and other peer-reviewed data, to assess whether AquAdvantage salmon met the criteria for approval established by law; namely, safety and effectiveness. The data demonstrated that the inserted genes remained stable over several generations of fish, that food from the GE salmon is safe to eat by humans and animals, that the genetic engineering is safe for the fish, and the salmon meets the sponsor's claim about faster growth.
Yes, absurdly exhaustive.
geneticliteracy
The bioluddites are furious. In an emailed press release spokes-alarmist Lisa Archer for the misnamed Friends of the Earth baselessly asserts:
"Despite FDA's flawed and irresponsible approval of the first genetically engineered animal for human consumption, it's clear that there is no place in the U.S. market for genetically engineered salmon." said Lisa Archer, Food and Technology program director at Friends of the Earth. "People don't want to eat it and grocery stores are refusing to sell it."
It is true that many timorous grocery store executives have agreed not to sell the fish, but let's hope that others will offer this new item to their customers.
Note: I do not like the flavor of salmon. Nevertheless, I intend ask my wife (the family chef, I do clean-up) to cook a dish using AquaBounty fish as soon as I can get hold of it. In addition, let's garnish the fish with recently FDA-approved genetically enhanced non-browning Arctic Apples. Maybe using this recipe.