Sen. Lindsey Graham Proposes Forever War with ISIS, Wherever It May Lead
'No geographical limits. … No expiration date.'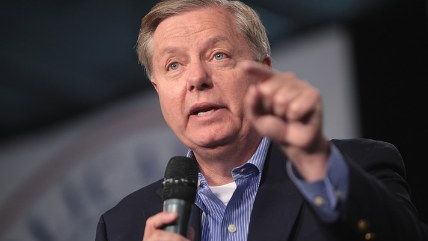 (Credit: Gage Skidmore / photo on flickr)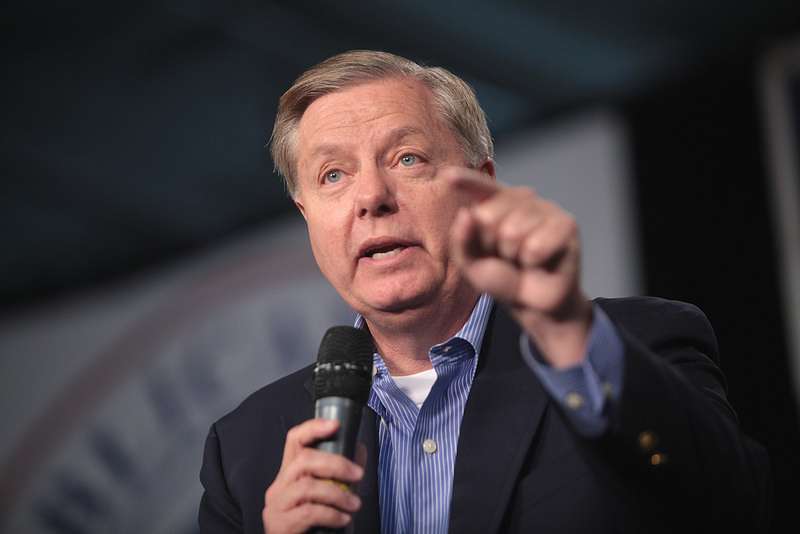 Those who watched the Democratic debate last Saturday (Okay, I know you didn't. Peter Suderman summarized here) may have noted that Hillary Clinton stated that our current Authorization for the Use of Military Force (AUMF), intended to fight al Qaeda, also applied to fighting the Islamic State. Nevertheless, she said a new AUMF should be passed anyway.
She's not alone in this "All our military actions right now are totally legal, but we should pass another AUMF just because" mentality. President Barack Obama himself has called for a new one.
Sen. Lindsey Graham (R-S.C.), candidate for president and human ISIS warning alarm, is also calling for a new AUMF. Given that Graham's entire campaign is predicated on him insisting that ISIS is coming to kill us all in our beds, and only the firm, strong hand of the commander in chief can save us, we can expect his AUMF proposal to be far-reaching. Graham does not disappoint in that respect. David Weigel summarizes over at the Washington Post:
The resolution, which Graham plans to officially introduce after the Thanksgiving recess, is being shaped and shopped around to senators on Wednesday. "No geographic limits are placed on American military or intelligence services in the fight against ISIL," reads the outline of the in-process legislation. "No expiration date. No prohibition on sending American forces on the ground to combat ISIL. No prohibitions on the ability of the United States to disrupt online terrorist recruitment activities, online terrorist propaganda, or terrorist communications."

All of that makes Graham's AUMF further-reaching than any comparable ones — none of which have gotten traction in Congress. The Obama administration has favored an authorization of force with a three-year limit, a non-starter among Republican hawks. Sen. Rand Paul (R-Ky.) has drafted a war authorization that would also place limits on ground troops, and end the 2001 and 2002 authorizations of force against (respectively) al-Qaeda and Saddam Hussain's Iraq. Sens. Tim Kaine (D-Va.) and Jeff Flake (R-Ariz.), two freshmen who have campaigned for a new AUMF, wrote in Time magazine Wednesday that their own details need to be worked out. "Questions about whether to 'sunset' an ISIS-specific AUMF and what to do about the 14-year-old statute which currently serves as the administration's legal underpinning for action against ISIS, remain," they acknowledged.
It's an AUMF that screams "For God's Sake, Do Something!" Unfortunately for Graham (and fortunately for those of us not prone to panic), the American public does not want ground forces to fight ISIS. While 60 percent of Americans say they want the U.S. to be doing more to fight ISIS, according to a Reuters/Ipsos poll, a full 76 percent of Americans oppose sending in conventional ground troops. A significant 65 percent don't even want special forces troops sent in.
That Americans haven't turned hawkish out of fear could help explain why Graham's presidential pretensions are leading him absolutely nowhere. It's not clear he even cares. He seems to have cast himself as some sort of Cassandra among the candidates, trying to find anybody (besides Sen. John McCain) to listen to him.