What's the Vetting Process for Syrian Refugees and Where Else Do Refugees to the U.S. Come From?
Fears are overblown.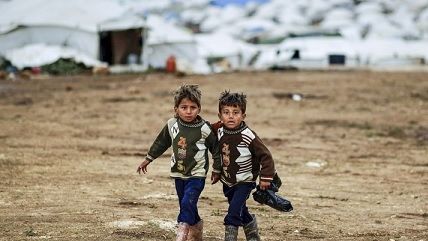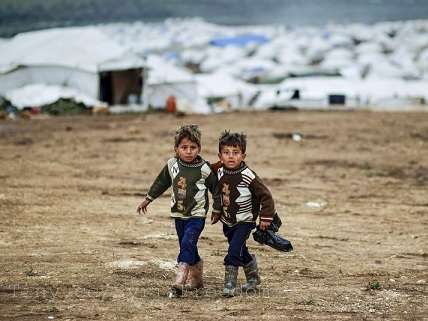 In September, President Barack Obama directed his administration to prepare to accept 10,000 refugees from Syria in fiscal year 2016. That number is about one third of the total number of refugees the U.S. accepted from the Near East/South Asia in fiscal year 2013, the most recent year for which the State Department has made such numbers available. That year, the U.S. accepted 32,390 refugees from the region. It set the ceiling at 33,400 that year. Iraq topped the regional list, with 19,488, followed by Bhutan with 9,134. The U.S. only accepted 34 Syrians that year.
After one of the terrorists from the Paris attacks was found to have entered Europe through Greece as a Syrian refugee, opposition has grown to the Obama administration's decision to accept 10,000 Syrian refugees, its first commitment to taking in refugees from Syria since the five-year-long Syrian civil war has started. At least 27 governors, all but one Republicans, have said they don't want Syrian refugees settling in their states. New Hampshire's Democrat governor, Maggie Hassan, joined the Republicans. Four Republican governors, North Dakota's Jack Dalrymple, South Dakota's Dennis Daugaard, Maryland's Lary Hogan, and Utah's Gary Herbert have not said they would try to prevent Syrian refugees from being settled in those states.
Some opponents of accepting Syrian refugees worry that the FBI can't properly vet them. Rep. Jeff Duncan (R-S.C.) told me on Twitter last night he'd be "all in" if it were possible to vet Syrian refugees. Refugees from every country face the toughest screening process of any class of migrants to the U.S. The belief that the FBI is unable to properly vet Syrian refugees comes from a congressional hearing last month where FBI director James Comey said it would be "challenging" to vet Syrian refugees because of the lack of data sets available to the FBI—things like local police records, information from intelligence services and the like—in Syria. Comey did not appear to say it was impossible, just challenging.
By comparison, while Somalia topped the failed/fragile state index from 2008 to 2013 (suggesting little infrastructure on the ground that could offer the kinds of datasets that make the FBI's vetting job easier), the U.S. accepted nearly 30,000 refugees from Somalia in that time. Somalia is home to Al-Qaeda affiliate Al-Shabaab, which has launched multiple attacks in Kenya and called earlier this year for terrorist attacks against malls in the U.S. In fact, in 2013, the U.S. accepted about 34,000 refugees (more than half from Iraq) from countries ranking higher on the failed state index than Syria.
While the FBI's common-sense acknowledgement it would be "challenging" to vet Syrian refugees is a primary argument deployed against the US accepting more of them, the FBI is not the only agency responsible for vetting refugees.
Philly Voice explains the process:
PREPARING THE FILE

Applications go to one of nine State Department-funded "resettlement support centers" overseas run by international or non-government groups. Caseworkers, who are not U.S. government officials, collect information from applicants.

THE INTERVIEW

Officers from the Department of Homeland Security's Citizenship and Immigration Services travel from Washington to where the applicants are to decide whether they meet the legal definition of a refugee, based on whether they have faced or likely will face persecution.

SECURITY CHECKS

Applicants undergo multiple background and security checks involving the National Counterterrorism Center; the FBI's Terrorist Screening Center; Homeland Security; and the State Department. Details of the checks are classified.
After the security check, there's a health screening, a three-day cultural orientation and, finally, settlement. The whole process takes up to two years. According to Philly Voice, most of the Syrian refugees so far have been settled in Michigan, Illinois, Texas, and California. The governors of the first three states are among those saying they will refuse more Syrian refugees. Yet none of them pointed to any specific problem, or hint of a problem, they've had with the limited amount of refugees they have taken so far.
The U.S. accepted 70,000 refugees in fiscal year 2013, down from 80,000 in fiscal year 2008. An additional 10,000 is not an overwhelming number. Because of the nature of refugees (people fleeing violence and persecution), they tend to come from countries with a poor security environment and sketchy datasets. Yet the federal government is capable of bringing them in. Of the numerous terrorist plots U.S. law enforcement says it's foiled, none has been used as critics of accepting Syrian refugees an example of refugees "infiltrating" the U.S.
And while 10,000 has become a politically contentious number, it represents just .0025 percent of the four million refugees the Syrian conflict has produced so far. Two million of them are in government camps along the Turkish-Syrian border. More than a million Syrians fled to Lebanon, where they have access to basic public services. More than 600,000 more Syrians are in Jordan, with another 400,000 in Iraq, Egypt, and Libya.
Since 2011, more than 350,000 Syrians applied for asylum in Europe—138,000 in 2014. The United Nations High Commissioner on Refugee says traffic across the Mediterranean, with refugees coming from the Middle East and North Africa, has increased by 80 percent this year. About 80,000 Syrian refugees applied for asylum in Europe in the year ending July 2015—94.5 percent were admitted, compared to an overall admission rate of about 64 percent. At the other end of the spectrum, more than 95 percent of the about 70,000 refugees from Albania and Serbia had their applications rejected.