Paul Ryan vs. Bernie Sanders on College Entitlements
God forbid, Bernie becomes our 45th president, who will stand in his way?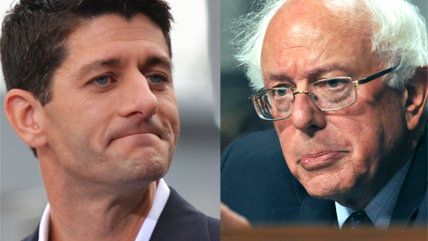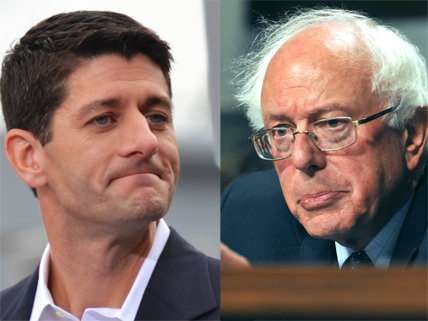 Presidential candidate and Vermont Senator Bernie Sanders (D) penned an op-ed in The Washington Post this week headlined, "Make College Free For All."
"A college degree is the new high school diploma," and since high school is free, Sanders reasoned, college should be too:
Today, it would take a minimum wage worker an entire year to earn enough to cover the annual in-state tuition at a public university. And that's why so many bright young people don't go to college, don't finish or graduate deeply in debt. With $1.3 trillion in student loans, Americans are carrying more student debt than credit card or auto-loan debt. That's a tragedy for our young people and for our nation.
Reason's Scott Shackford wrote a great rebuttal to Bernie's op-ed. Here's an excerpt:
[Y]ou won't see any discussion in Sanders commentary about why college prices have exploded far above and beyond increases in the consumer price index or even the costs of healthcare. There will be no discussion of how subsidies and administrative bloat have massively driven up prices and eliminated any incentives for colleges to restrain costs. It's just a thing that happened.
God forbid, Bernie becomes our 45th president, who will stand in his way?
Back in 2009, when Obama was pushing a more benign plan to boost government aid for college students, Michael Moynihan sat down with Rep. Paul Ryan (R-Wis.) to get his take. Now that Ryan is running to be House speaker, and Bernie is talking about making college free altogether, the story is relevant again.
Take a look: