Movie Reviews: Rock the Kasbah and The Last Witch Hunter
Bill Murray's Afghan wig-out, Vin Diesel on a thrill-free demon quest.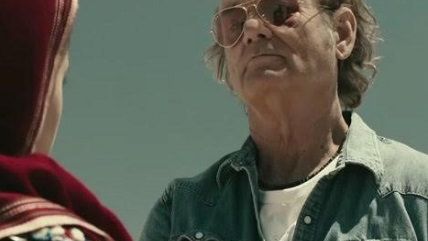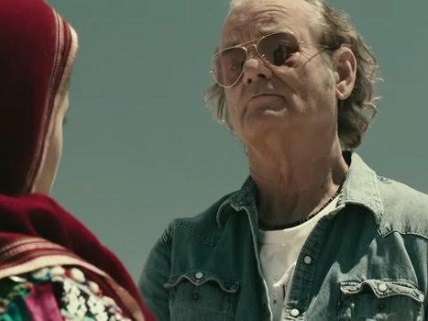 In Rock the Kasbah, Bill Murray looks as weary as the material that's been hammered together to make this ill-conceived film. The movie begins as a middling comedy, with Murray's Richie Lanz, an over-the-hill rock-band manager, operating out of a seedy Van Nuys motel room, holding fast to his only present-day client, a karaoke singer named Ronnie (Zooey Deschanel). With gigs understandably nonexistent, Richie follows a tip from a barroom drunk to take Ronnie out on a remunerative USO tour to entertain troops deployed in the Middle East. Upon arrival in Afghanistan, we see burqa-bagged women tottering around and hear talk of murdering any less-pious females who might attempt to break free from the local Muslim cultural code. Laughter dies.
Apart from its simple existence, the script, by Mitch Glazer, is further burdened by half-hearted subplots. Some business with the divorced Richie and his cute little daughter is abandoned as a lost cause early on. And his undercooked romance with an expatriate hooker named Merci (Kate Hudson), who does business in a trailer parked in back of a Kabul disco, never pans out in any convincing way.
The central thrust of the story involves a TV talent show called Afghan Star, a real-life series, modeled on American Idol, which began broadcasting amid the (temporary) rout of the fanatical Taliban. It takes a while to get to the show, though. First we have to see Richie stranded in Kabul after the terrified Ronnie takes off with his money and his passport. He also crosses paths with an American mercenary called Bombay Brian (Bruce Willis, possibly returning a favor to someone with his scowling participation here). In the movie's liveliest scenes, Richie falls in with a pair of giddy munitions dealers (Danny McBride and Scott Caan) who recruit him to deliver a shipment of ammo to a faraway Pashtun village. There, taking a whiz in the sand one night, he hears a great (well, not-bad) version of a Cat Stevens song issuing from a nearby cave. Looking in, he finds a guitar-strumming woman named Salima (Palestinian actress Leem Lubany). Offering a 20-percent deal to become her manager, Richie undertakes to enter Salima as a contestant on Afghan Star.
Salima's story is very loosely based on the experience of Setara Hussainzada, an actual Afghan Star contestant who, unlike Salima, was eliminated in an early round of the competition (but nevertheless drew death threats from Muslim traditionalists outraged by, as one cretin puts it here, "the whore who sings"). If only the movie had been eliminated in some early inning of its development. Does anyone really need to see Bill Murray belting out a ha-ha awful version of "Smoke on the Water" at this late date? And will anyone really be amused by the script's awkwardly constructed wisecracks (Merci to Richie: "I can fuck you like a Mouseketeer on crack")?
Director Barry Levinson once turned out movies like Rain Man and Diner, and cinematographer Sean Bobbitt is noted for, among other things, his sterling work with director Steve McQueen. What went wrong here? Some of the scenes with Murray stumbling around in the desert look like they were staged and shot by tourists. And the attempted feel-good ending—like the knuckle-headed placement of Bob Dylan's "Knockin' on Heaven's Door" earlier on—is unlikely to make viewers feel any better about the movie they've just made the mistake of sitting through.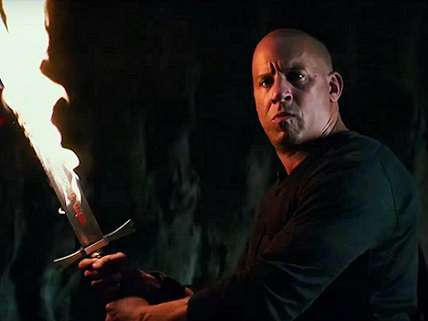 The Last Witch Hunter
Vin Diesel's improbable charisma—a combination of hulking badassery, near-subsonic line readings, and an occasional sweet smile—does nothing to redeem The Last Witch Hunter. Diesel plays an 800-year-old demon-stalker named Kaulder, who's currently based in New York (well, Pittsburgh, where the movie was shot). Unremarked by the populace, the city is teeming with witches both good and bad. They have their own nightclubs, prisons, and runway shows, and sometimes even take selfies. Who knew?
Kaulder, installed in a deluxe pad overlooking Central Park (props to the second-unit crew), walks among these creatures, keeping them in line. He's guided by an ancient priesthood called "Dolans," the latest of whom—Dolan 36th—is played by Michael Caine (who probably figured, Why not?). When this Dolan suddenly dies, his place is taken by Dolan 37th (Elijah Wood), who proceeds to oversee Kaulder's latest and possibly last quest—to find and destroy the still-beating heart of the Witch Queen (a nasty-looking Julie Engelbrecht). Back in the Black Death days of the 14th Century, the Queen was responsible for the demise of Kaulder's wife and child; he thought he'd put her down back then, but apparently not. He's still pissed.
Sounds like fun, doesn't it? But the movie is swamped by murky digital effects, an endless parade of flaming swords, flaming pentagrams and a great big flaming tree. These work best in an opening scene, set way back when, in which we see Kaulder—tricked out in the silliest hairdo since David Bowie wore a Mohawk—leading a troupe of grubby associates through vast snowy lands to confront the Queen. As the movie proceeds, though, the CGI becomes oppressive, and the story leaks energy like a gut-stuck peasant.
Back in "New York," Kaulder is joined in his quest by a good-witch bar-owner named Chloe (Rose Leslie, from Game of Thrones). Together they track down a nut-job warlock called Ellic (Joseph Gilgun); a blind, black magical baker curiously named Max Schlesinger (Isaach De Bankolé); and a big beardy demon who's said to smell like "moldering crabapples" and currently goes by the tip-off name of Belial (Ólafur Darri Ólafsson). Kaulder is unfazed by any of these otherworldly entities. "You know what I'm afraid of?" he says to Chloe. "Nothing."
The movie is an obvious attempt to kick-start a franchise, but director Breck Eisner lacks a flair for good cheap thrills, and he can't give the story the sort of supernatural juice that might have made it entertaining. "Enjoy the shadows," Belial says at one point. If only.